1 October, 2001
The Highlights of A Mission Accomplished
Today was spent cleaning up the last signs of our presence aboard the Healy. The rocks and equipment were packed away, the lab was tidied, and our rooms were cleaned. The scientists are prepared to disembark and stand on land tomorrow.
We spent the afternoon reflecting on our expedition and its many successes. We have completed an historic mission here in the Arctic that well surpassed everyone's expectations. There were many aspects of this mission that people thought impossible. Could we map the ocean floor at Gakkel Ridge in the ice? Could we dredge in the ice? Would we be able to make it to 85 degrees west on the ridge in the Healy on her first scientific voyage? We found the answers to these questions-YES, YES, YES!
We stood out on the deck this evening and were treated to a wonderful conclusion to our 2 months at sea. The moon was full and the clouds passing in front of it made it seem the most perfect fall evening ever. The Northern Lights could be seen glowing faintly over our heads as they changed color and shape. In years to come, I will think back on my adventure in the Arctic and recall this beautiful night, the talented Coast Guard crew on the Healy, and the wonderful science party that made this a truly amazing experience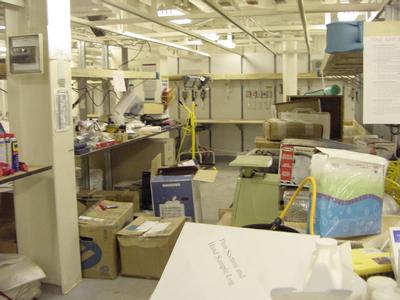 <> The messy lab was rock-free, but still needed packed up this morning.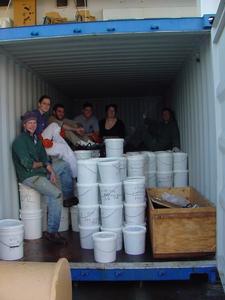 All of the rocks are FINALLY in the holding container (van). It is a happy moment!
---
Contact the TEA in the field at .
If you cannot connect through your browser, copy the TEA's e-mail address in the "To:" line of your favorite e-mail package.