3 October, 2001
Home At Last
I arrived at the airport in Oslo, Norway this morning to find that my flight into Newark had been canceled! Tears welled up in my eyes as I tried to grasp the idea of spending the night stranded until the ticket agent offered to fly me to into Baltimore by way of Iceland. I jumped at the chance and was grateful to be safely home to West Virginia within 14 hours.
It's now time to readjust to life as I knew it before this most wonderful experience. The 80-degree temperatures make it feel like July, but the trees reveal that a season has passed. I look forward to spending time with family and friends before returning to school and meeting my new students.
The opportunity to travel in the Arctic was made possible by many people. I would like to thank the TEA program for selecting me and providing me with the many tools for a successful experience. To Dr. Peter Michael, a leader who had the foresight to see that bringing a teacher on board could be a valuable educational tool. I offer a huge thanks to the West Virginia State Department of Education, Berkeley County Schools, and Musselman Middle School who have, for the 12 years of my employment, given me encouragement in my many endeavors. I can't imagine a more wonderful place to work! And of course to my family and friends who always support my eccentric decisions. All of these groups made this experience possible for me, and in doing so they have positively influenced my personal and professional life in many respects.
For years to come I will remember my journey of discovery to Gakkel Ridge, and I will always be grateful for having been a part of such a wonderful adventure.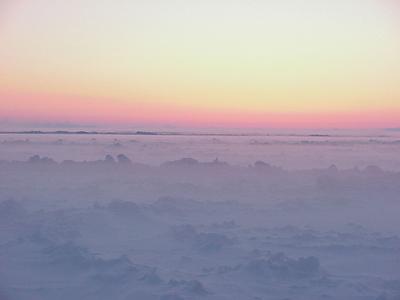 Goodbye to the beautiful Arctic!
---
Contact the TEA in the field at .
If you cannot connect through your browser, copy the TEA's e-mail address in the "To:" line of your favorite e-mail package.