30 August, 2001
August 30, 2001
A Polar Powerhouse
This morning I was awakened by the rattling and humming of the Healy, so I wasn't surprised to open my porthole and see nothing but white landscape. I searched the horizon and couldn't find any kind of lead in the water. It looked like a snow-covered field instead of an ocean - the heaviest ice cover yet.
I made my way downstairs to find that in the middle of the night we had dislodged the Polarstern from an ice trap. The German icebreaker had to call on the Healy to free her once again! It made me curious about the Healy's abilities, so I decided to check out this polar powerhouse.
To find out the secret of the Healy, I asked the lead engineer. I was taken on the grand tour and was amazed at what I learned.
The tour began in the Engineering Control Center. This is where all the data concerning the ship's machinery is found. It was designed so a single person could operate the center; therefore high levels of automation were built in. This cutting edge technology allows 5,400 points in the ship to be monitored and controlled in this single room! On other ships, a huge crew would be needed to maintain the same operation.
The Healy has four 10,000 horsepower diesel engines that generate all of the ship's electricity. This electricity is used for everything from the 2 motors (15,000 horsepower each) that turn the propellers to the lights in our rooms. Typically only 1 or 2 engines are running, and 3 may be used in heavy ice. All 4 engines have never been needed at one time.
I also found out that the Healy was designed with several advantages. It is heavier than most icebreakers and the amount of water it displaces is constant (salt water is pumped into tanks to equal the weight of the fuel that is consumed by the engines). The hull is designed differently than is typical for such ships, and way the electricity is generated allows the Healy to accelerate faster and therefore gain more momentum for icebreaking.
I now have a greater understanding of the Healy's abilities and know that in the frozen Arctic Ocean, this is definitely the place to be.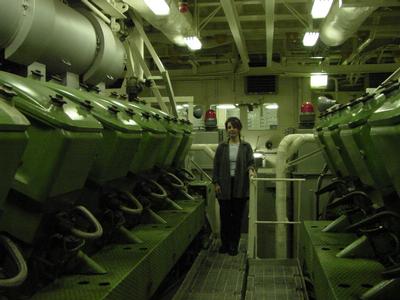 The tour led me into the engine room where 4 engines are available for use by the Healy. One can be seen up on the left (silver).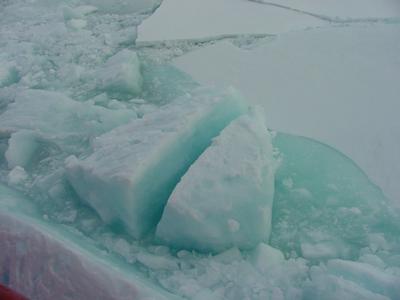 This piece of old ice we broke was bigger than a bus!
---
Contact the TEA in the field at .
If you cannot connect through your browser, copy the TEA's e-mail address in the "To:" line of your favorite e-mail package.