20 September, 2001
Not Just About Science
We have spent the last 2 weeks holding exchange sessions with the scientists aboard the Healy and Polarstern. It has been a wonderful opportunity for an exchange of not just science concepts, but also lifestyles and cultures. It has been a time to socialize with new people and learn about their lives beyond science.
What are the biggest differences between the 2 ships and life on board? Although both ships were built to break ice and conduct scientific research, there are quite a few differences. The Healy, built for power and performance, seems to almost effortlessly work its way through the ice. It can carry a large Coast Guard crew and the crewmembers keep busy with drills and exercises. There are minimum frills in décor and the emphasis is on practicality. Our German visitors have learned about the Coast Guard and life on a military ship. They seem fascinated with some of our foods here-- especially the deserts. Some have even brought rock sample bags over to fill with chocolate, Pop tarts, and soda to take back to the Polarstern. They love the treats that we have on board.
The Polarstern was built about 20 years ago and comfort was in mind. The ship accommodates a small, non-military crew and a science party of about 50 members-over twice as many as we have with us. It's interior is brightly painted and well decorated. The "mess" (where meals are taken) has the feel of a nice restaurant and the quarters have a homey décor. When we go visiting, we feel like we are in a hotel. They have comfortable lounges where the crew gathers to take coffee breaks together and socialize. When we visit the Polarstern, we seem fascinated with their swimming pool and sauna.
Having the opportunity to do international exchanges via helicopter has been a great experience for everyone involved. Not only have people aboard the Healy and Polarstern shared science, but we have also had great fun and a wonderful chance to make new friends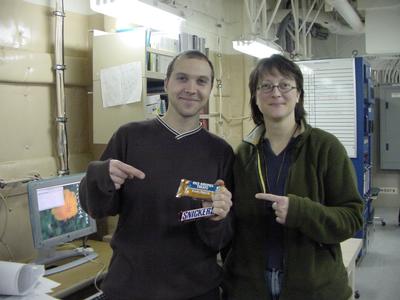 Candy is an important part of the exchange between the Germans and Americans, as demonstrated by Stefan (from the Polarstern) and Debbie Hassler (from the Healy).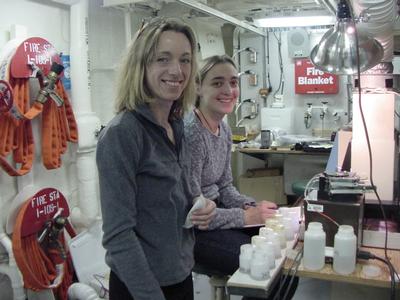 Dr. Kerstin Lehnert (front) enjoys spending time with visitors. Here she shows Annette from the Polarstern how a chemical analysis is done in the DCP lab.
---
Contact the TEA in the field at .
If you cannot connect through your browser, copy the TEA's e-mail address in the "To:" line of your favorite e-mail package.