27 September, 2001
A New Polar Bear
This morning the Wogs were awakened at 5:00 am. This was no problem for me since it was my normal wake-up time for the last 2 months. We were about to embark on the last part of our "Polar Bear Club" initiation. We were told to dress inside out and backwards, offered a bad breakfast, and asked to meet in the science conference room for further directions. We then were sent on a type of obstacle course that will remain a secret. It involved eating something you would rather wear and wearing something you would NEVER eat, freezing temperatures, and water. If you are interested in becoming a Polar Bear Club" you must cross the Arctic Circle by ship to find out more.
Befitting of the special occasion, soon after the ceremony was over the announcement came that a polar bear with two cubs was sighted coming towards the ship. They were as curious about us as we were about them, but they soon had their fill and took off.
He fun didn't stop there. Later in the afternoon we had our final farewell with our friends on the Polarstern in an ice liberty celebration. It was an opportunity to celebrate our successes together. We were served food in the helicopter hanger and beverages on the Polarstern. The walk between the two ships was short, but the ice was slick and smooth. Some people took advantage of the situation and played hockey. Others juggled, wrestled, and there was even a group of German "Teletubbies". It was a time for the Coast Guard crew, the scientists from the Healy and the Polarstern to say goodbye and good luck. We then parted ways as the Polarstern headed off towards Germany and we towards Norway.

German "Teletubbies" on the ice.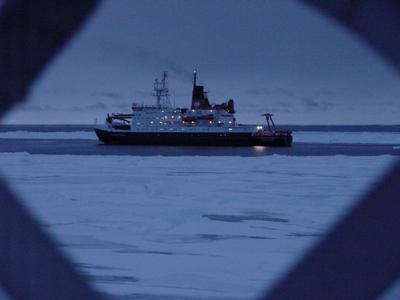 The Polarstern leaves ice liberty behind and heads home towards Germany.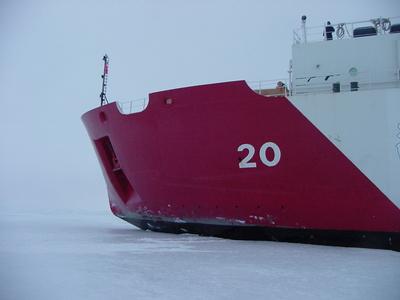 The Healy found a nice ice floe to park in for ice liberty!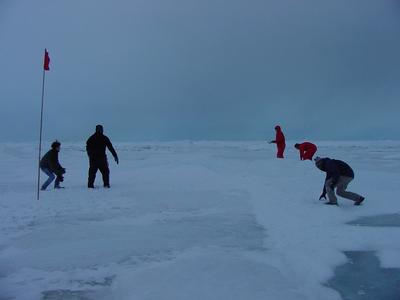 A snowball fight ensued on the frozen ocean during ice liberty.
---
Contact the TEA in the field at .
If you cannot connect through your browser, copy the TEA's e-mail address in the "To:" line of your favorite e-mail package.