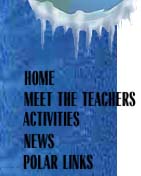 TEA Advisory Board


Role of the TEA Advisory Board

Who's Who on the TEA Advisory Board



Role of the TEA Advisory Board
The TEA Advisory Board is charged with ensuring that the objectives and implementation of the Teacher Experiencing Antarctica and the Arctic Program are followed in the best interest of the TEA (and broader) education and research communities. The Advisory Board carries the vision of the initiative to their own communities, serving as bridges between the research and education. Thus, the make-up of the board members reflects selection of individuals with strong personal commitments to integrating research and education and with understanding of the issues facing researchers, teachers, and administrators who are trying to integrate research and education. The Advisory Board includes two TEA teachers, four TEA researchers, three curriculum specialists, and three science education specialists.

Meetings occur each year in the fall and are supplemented by electronic communications. The Advisory Committee is kept informed of events, developments, and evaluation results during the course of the year.


Who's Who on the TEA Advisory Board


Advisory Board

Ms. Karen Baker
2252 Sverdrup Hall
University of California, San Diego
Scripps Institute of Oceanography
La Jolla, California 92093-0218
(619) 534-2350


Karen Baker is an oceanographer with a concentration on Ultra Violet Radiation. Her research base is at Scripps Institute of Oceanography. Karen is involved as the database coordinator for the Long Term Ecological Research (LTER) program. Karen has worked with two TEAs and plans to involve a third TEA in the LTER research. She has initiated collaborative work among the TEAs and the LTER PI's beyond the field experience.


Ms. Mary Cerullo
101 Lovett's Field Road
South Portland, Maine 04106
(207) 799-6406


Mary Cerullo is a science interpreter for public outreach currently working out of Maine on environmental curriculum. Mary's past projects include developing curriculum materials for NASA.


Ms. April Cheuvront
Table Rock Middle School
1585 NC 126
Morganton, NC 28655
(828) 437-5212



Mr. Tim Conner
Chenango Forks Central School
1 Gordon Drive
Binghamton, New York 13901
(607) 648-7514


Tim Conner is a high school teacher and chair of the Science Department at Chenango Forks High School in Binghamton, New York. Tim became part of the TEA community in 1998 when he parcticipated on an archaeologic dig in Deering, Alaska.


Mr. Myles Gordon
AMNH - Department of Education
Central Park West at 79th Street
New York, New York 10021-5192
(212) 769-5172


Myles Gordon is the Vice President of Education at the American Museum of Natural History. He has spent the last 30 years working on professional development -- much of this has been in the area of science. A primary desire is connect students to real science through a variety of paths. Myles was drawn to the Museum because of the possibility of accessing researchers and objects. The Museum is a laboratory for exploration, and it offers opportunities to make connections to students around the country.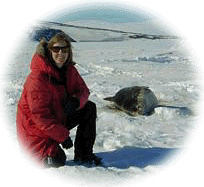 Ms. Sharon Harris
Mother of Mercy High School
3036 Werk Road
Cincinnati, Ohio 45211
(513) 661-2740


Sharon Harris teaches Environmental Science and Chemistry to girls at Mother of Mercy High School. During the 1998/1999 TEA season, Sharon was a member of Dr. Bess B. Ward's (Princeton University) field team in the Dry Valleys of Antarctica. The team investigated the " Control of Denitrification in a Permanently Ice Covered Antarctic Lake: Potential For Regulation by Bioactive Metals." The data will be used to demonstrate the role of metals in the regulation of nitrogen metabolism in microbial populations. Small changes in denitrification/nitrogen fixation in marine environments may affect the availability of global fixed nitrogen, which would affect primary production, carbon dioxide consumption, and the carbon cycle.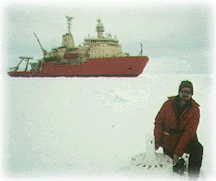 Dr. Martin Jeffries
Geophysical Institute
University of Alaska Fairbanks
903 Koyukuk Drive
P. O. Box 757320
Fairbanks, AK 99775-7320
Phone: 907-474-5257
Fax: 907-474-7290


Here is Martin Jeffries in January 1999 with a buoy deployed on an ice floe in the Ross Sea, Antarctica, for a study of sea ice motion and deformation. Martin is a Research Professor of Geophysics at the Geophysical Institute, University of Alaska Fairbanks. His primary research interests are the formation and thickness of Antarctic sea ice, and the growth and decay of lake ice and its role in Arctic land-ice-atmosphere interactions. He has been involved with TEA since 1994, when Marge Porter of Woodstock Academy, Connecticut, parcticipated in a cruise aboard the research vessel "Nathaniel B. Palmer" (see photograph) in the pack ice of the Bellingshausen, Amundsen and Ross seas, Antarctica. Since then, Martin and Marge have continued to work together, most recently in winter 1999-2000, when they studied ice growth, snow accumulation and heat flow at lakes at Poker Flat, 30 miles north of Fairbanks, Alaska.


Dr. Beverly Johnson
National Education Association
Teaching & Learning
1201 16th Street Northwest
Washington, DC 20036-3290
(202) 822-7979 / (202) 822-7482


Beverly began her career teaching primary grades in Beaumont, Texas. AFter 14 years she relocated to the Washington DC area and pursued graduate studies at the University of Maryland where she received a masters in human resource development and a doctorate in organizational development. Her 10 years at the National Education Association have focused on discovering the professional and organizational conditions in schools that lead to high student achievement. The focus of her current work is assisting state level education systems to align their processes in support of district and schools. The primary vehicles toward achieveing that end are the Baldrige Systems Alignment framework and action research. She assists teams in creating a climate conducive to productive partnerships through a work called Human Dynamics@. She is happy to be associated with the TEA advisory board because she sees the project as a powerful process for developing so many aspects of the teaching professional including their consciousness, craftsmanship, flexibility, efficacy, and interdependence.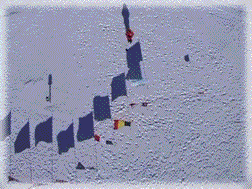 Mr. Eric Muhs
Roosevelt High School
1410 NE 66th St
Seattle, WA 98115
(206) 252-4810


Eric Muhs is a physics teacher at Roosevelt High School in Seattle, Wa. His popular classes are full of hands-on science opportunities for students. In the last 10 years, his students have built robots, electric cars, cosmic ray detectors, radio stations, kite aerial photography rigs, and much more. This summer (2003), Muhs & a few of his students will travel to Palestine, Tx, to send a portable cosmic ray detector aloft on a NASA balloon to 100,000 feet. Eric is a long-time member of QuarkNet, a professional development organization for physics teachers, and WALTA, a school-based cosmic ray detector network collaboration with the University of Washington. Eric's picture was taken from a kite at the South Pole during his TEA experience at the South Pole in December 2002.


Dr. Veronique Robigou
University of Washington
School of Oceanography
Box 357940
Seattle, WA 98195-7940
(206) 543-9282
(206) 543-0275 fax


Véronique is a marine geologist at the School of Oceanography, University of Washington in Seattle. Her research interests focus on mapping the seafloor, and investigating spatial and temporal evolution of hydrothermal vent systems on mid-ocean ridges. She discovered TEA when she first met Dr. Stephanie Shipp at a conference in Seattle in 1996, and they exchanged ideas on the scientists' role as a bridge between the research and education communities. She is the director of the REVEL Project (Research and Education: Volcanoes, Exploration and Life), a professional development program that provides authentic research experiences to teachers who want to learn science by practicing it alongside researchers at sea. She believes that collaboration between researchers and educators can bring the relevancy and excitement of science into all classrooms.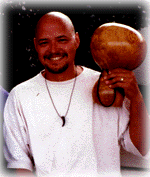 Mr. C. Sean Topkok
Indigenous Curriculum Specialist
Alaska Native Knowledge Network
PO Box 756735
Fairbanks, Alaska 99775-6735
or


Sean identifies, catalogues, and distributes Indigenous curriculum materials. He also maintains the ANKN website. He is half Iñupiaq, quarter Irish and Norwegian. His family comes from Nome and Teller. Sean and his wife Amy have two sons, Christopher and Aaron.


Dr. Emma Walton
2014 Crataegus Circle
Anchorage, Alaska 99508
(907) 274-7033
(907) 274-2704 (FAX)



Advisory Board Alumni

Dr. Eric Jolly
Education Development Center
55 Chapel Street
Newton, Massachusetts
(800) 225-4276 x2209



Dr. Berry Lyons
Department of Geology
University of Alabama
Box 870338
Tuscaloosa, Alabama 35487-0338
(205) 348-0583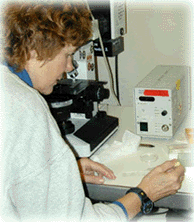 Ms. Barb Schulz
BioLab
Mail Stop D4-245
1100 Fairview Ave. N.
Seattle, WA 98120
(206) 667-5433


Biology teacher starting her career in Illinois teaching biology in a demonstration school for gifted kids. She then moved to the east and taught in Rhode Island for one year, and decided the northwest sounded interesting. So, off she went to Seattle, fell in love with the northwest and stayed. IShe has taught grades 7 - 12, biology, physical science, environmental science, botany, Independent Research and worked in many professional development programs for teachers. One might say that she loves to model the life long learning ideas that we tell our students they must do when they grow up. She has had three research fellowship awards, been a TEA teacher and received a small supplemental grant to go back to the ice abter being so infected by all the wonderful science and people who find their way to the ice. She thrives on sharing the excitment of science with young people. She was a teacher for 35 years (yikes, can that be true?!) and now she is the Exective Director of BioLab, a, a private non-profit research lab where kids can come and do original research of their own design with the support of a staff of mentors, former teachers, scientists and entrepreneurs.


Dr. Frank Willingham
Ilisagvik COLLEGE
PO Box 749
Barrow, Alaska 99723
(907) 852-1818 / (907) 852-2729 (FAX)


Frank Willingham specializes in botanical research. Frank chairs the science department at Ilisagvik College. His mission is to connect teachers and researchers.





Project Management

Dr. Stephanie Shipp
Lunar Planetary Institute
3600 Bay Area Boulevard
Houston, Texas 77058-1113

Stephanie Shipp was the lead PI and for TEA. During her years with the TEA Program, Stephanie was at Rice University and the American Museum of Natural History. Stephanie was the primary director of the program and its web site. She also worked with the Antarctic research PIs to ensure positive field experiences for both teachers and researchers. In 2003, Stephanie took on the position of Manager of Education and Public Outreach at the Lunar Planetary Institute. shipp@lpi.usra.edu


Dr. Debra Meese
Cold Regions Research & Engineering Laboratory
72 Lyme Road
Hanover, New Hampshire 03755
(603) 646-4594

Debra Meese served as co-PI on TEA for five years. Deb was the programmatic contact at CRREL which handled the majority of the parcticipant side of the Program. She also worked with the Arctic research PIs to ensure positive field experiences for both teachers and researchers.


Ms. Arlyn Bruccoli
Department of Education
American Museum of Natural History
Central Park West at 79th Street
New York, New York 10024-5192
(212) 496-3595

Arlyn Bruccoli served as the Project Manager and co-PI for the final two years of the TEA grant. Arlyn started with the TEA Program in 1999 as project coordinator. While working on the TEA Program, Arlyn was at the American Museum of Natural History and served as a consultant on the project via the Cold Regions Research and Engineering Lab and the University of Rhode Island. arlynb@tops-tele.com, arlynb@amnh.org


Ms. Marge Porter
Somers High School
Ninth District Road
Somers, CT 06071
(860) 749-2270

Marjorie Porter served as co-PI on the TEA Program for the final three and half years of the TEA grant. Marge drew upon her experiences as a public school science teacher in Connecticut and as a TEA parcticipant to facilitate the transfer of teacher field experiences into classroom practice. She performed this work as consultant to the American Museum of Natural History and the University of Rhode Island. marjorieporter@sbcglobal.net



TEA Program Evaluators


Dr. Maritza MacDonald
Department of Education
American Museum of Natural History
Central Park West at 79th Street
New York, New York 10024-5192
(212) 769-5182

Maritza Macdonald is a teacher educator at the American Museum of Natural History. She is involved in professional development and focuses on developing and implementing deep, meaningful exploratory experiences for teachers. Her research agenda focuses on understanding the impact of the research experience on teachers - and the impact on their teaching. How does the experience develop? What elements make successful experiences in light of the impact?


Dr. David Silvernail
Director, Center for Educational Policy, Applied Research and Evaluation
University of Southern Maine
(207) 780-5297


David Silvernail Director of the Center for Educational Policy, Applied Research and Evaluation, where he teaches courses in research methods, statistics, and education policy. His areas of expertise include school finance, best practices, and large-scale assessment. Dr. Silvernail's current research interests focus on developing a more equitable school funding model for Maine, and identifying exemplary practices in higher performing, lower cost school districts. (revised from: http://www.usm.maine.edu/cehd/silvernail.htm)




NSF Representatives

Ms. Renee Crain Office of Polar programs
National Science Foundation
Arctic Science Section
4201 Wilson Boulevard
Room 755
Arlington, Virginia 22230
(703) 292-8029



Mr. Guy Guthridge
Office of Polar programs
National Science Foundation
Room 755
4201 Wilson Boulevard
Arlington, Virginia 22230
(703) 292-8033



Dr. Anna Kerttula
Arctic Social Sciences Program Director
Office of Polar Programs
National Science Foundation
Arctic Science Section
4201 Wilson Boulevard
Room 755
Arlington, Virginia 22230
(703) 292-8029



Dr. Wayne Sukow
Division of Elementary, Secondary, and
Informal Education
National Science Foundation
4200 Wilson Boulevard
Arlington, Virginia 22230
(703) 292-5122


Wayne Sukow is the sectional head for the work force of Elementary, Secondary, and Informal Education at NSF. Wayne is a physicist by training, but he has been involved in chemistry, physics, and environmental science. He sees TEA as a model for research experience programs, and, as such, a work in progress.


Back to:
TEA Home Page