27 November, 1999
Saturday November 27, 1999
Got up about 0600 hours and checked email. A few more people had sent holiday greetings. I responded to all my mail and returned to my room to await one of the guys and his lady friend form our class. We were going to walk the 7 mile Castle Rock Loop trail. I dressed in all my ECW, boy what a mistake. The temperature had to be approaching 20-25 oF and there was absolutely no wind. I was dying. The other problem was walking 7 miles in bunny boots. My advice, don't ever do it unless you have to.
The trip took us about 6 hours and it was well worth every sweaty and pain filled step. After climbing to the highest point in McTown we continued out onto an enormous glacier and there we continued to walk, virtually always uphill, toward Castle Rock. The scenery along the way was breath taking. The bulk of the hike was probably above 1000' and even higher, obviously, when we got to Castle Rock and climbed it. From the glacier you could see the Royal Society Mountain Range across McMurdo Sound, to our right we could see out onto the Ross Ice shelf and in front of us lay our goal Castle Rock. "Immediately" (probably another 20 miles further) behind Castle Rock was Mt. Erebus with smoke continuously coming out of its crater, then a "little" to the right of it was Mt. Terror. Mount Terror appeared to have smoke coming from it too, but as far as anyone in our group knew it is an inactive volcano. Interesting! I wonder if?
We stayed at Castle Rock for awhile and then doubled back to avoid having to travel over sea ice, which would have taken a good chunk of our panoramic view away. As we approached McTown Tom and Lisa showed me the heavy equipment shop where all of the vehicles are maintained. Remember, any spare part that you might need, must be brought almost 12000 miles and stored. Just in case. There are no Napa Auto Supply stores here.
On the way down to town we passed a storage are where there were about 250 boxes (4'x4'x4') filled with only food wastes. Remember all this stuff will be retrograded in late January when the resupply ships arrives and offloads materials needed for the entire next year and picks up a year's supply of wastes of all kinds. During that same time frame the town starts to empty out to its winter population. By late February there will be probably less the 400 people who will winter-over in Mcmurdo Station.
I checked us back in (let them know we had arrived back to town safely) at the fire station came home, took a shower and kicked back for a couple of hours
About 1730 hours I got dressed, dress shirt and all, and headed over to the galley for Thanksgiving dinner. The meal was amazing. We had, and as usually it was all you can eat, the following:
Thanksgiving Dinner Menu
Hardwood-Smoked Turkey
Oven-roasted Turkey
Steamship Round
Antarctic Cod
Tempeh and Mushrooms - Vegetarian Entree
Bread Dressing with Giblets
Vegetarian Dressing with Roasted Red Peppers
Kentucky Sweet Potatoes
Mashed Potatoes
Roasted Root Vegetables
Broccoli with Cheese Sauce
Green Bean Casserole
Peas & Carrots
Giblet Gravy
Vegetarian Gravy
Shrimp Cocktail,
Pate*
Chutney
Varieties of Breads
Traditional Pies, Cakes, Pastries and Desserts
What a meal. I returned to my dorm to type this journal for I have a very busy week coming up.
This will be the last week of the project and we will have to prepare an evaluation form. We will also be getting ready to move to the dry valley for the next week and a half so that means tying up loose ends in McMurdo and getting answers to some questions. Questions such as: What do we do with our personal gear while we are in the field? Do we move out of our rooms? What happens to our computer accounts? When do we get notification of redeployment dates? Just a few simply "unimportant" questions. Gee there is not too much stress here!
I am going to bed. That hike and all that food have made me sleepy. I will have to get up early to get these journals out, for a have another one on one class with a parcticipant who has been out of town and has again missed yet another meeting.
Ciao,
Penguin Pete the Polar Man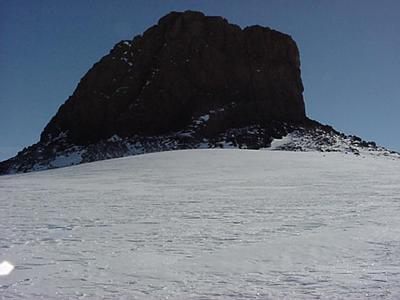 Castle Rock from down on the Castle Rock Trail. <> Photo by Peter M. Amati, Jr..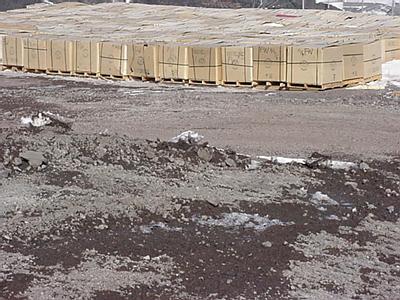 Boxes of food wastes, collected during the past year, await the arrival of the resupply ship. The ship will be offloaded with everything from toilet paper to trucks and reloaded with any and all wastes from aluminum cans and food wastes to barrels of urine and obsolete spare parts for retrograding back to the states. <> Photo by Peter M. Amati, Jr.
---
Contact the TEA in the field at .
If you cannot connect through your browser, copy the TEA's e-mail address in the "To:" line of your favorite e-mail package.