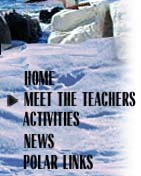 6 June, 1992
Saturday, June 6, 1992:
Day Two of the recovery of Ice Camp Weddell I. Up at 0600. I thought nights were supposed to be longer down here at this time of the year. HA! Back to Beacon Hill. During the night, the Russians had begun to disassemble their huts. I may have been wrong, we may be out of here in four days. Worked digging out frozen boards again while the huge (holds 15-20 people, payload of 11 ton) Russian Mill-8 helo made run after run to the fuel cache (there were four N, S, E and W). At four barrels per load, simple mass suggests about 200 trips.
Returned to the Palmer for lunch and found Dr. Tony Gow (has a mountain range named after him in the Trans Antarctic chain), world's foremost expert on ice, and Vicky Lytle, PHD candidate who was to defend her thesis this week, but now that's moved to August at Darmouth, (my boss and one of the hardest working people I know). That attitude seems to be typical of CRREL people (Tony, Vicky, Bruce Elder, Dave Bell); they are workaholics. I love working with them and quite candidly, I seem to fit into their mold. We were skidooed to the first site - Gena -about 2 km from the Palmer; to the next site - David -another 2 km; now to the last site - Amy. But Tony (in his sixties, I think) and Vicky decided we should walk to site David, pulling our banana sledge full of jiffy heads, six ice cores and accessories. When they said walk, I figured maybe around the next hummock. WRONG. I guess it was only a km, but with all the gear I was wearing, I was wondering if I would make it. But if they could, I could. After doing our cores, we had the skidoo bring the sledge to the ship and we joined in digging out one of the CRREL weatherports. Again, ice, ice and more ice; only this one had about one foot of water under it. Guess what I know now - muklucks are not waterproof.
We returned to the ship at 1740; then went out again till 2100. I came "home, " cleaned up and started on my journal. Then the good news came - mail call! Now I know how the guys in the military must feel like when mail arrives for them.
---
Contact the TEA in the field at .
If you cannot connect through your browser, copy the TEA's e-mail address in the "To:" line of your favorite e-mail package.