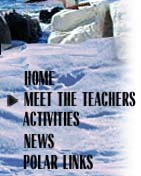 30 September, 1998
Wednesday, September 30th
Check in was a bit quicker since we didn't have gear to check, only our ECW carry on bags. We were bused again to the runway and boarded the plane! The C141 is not like a typical commercial jet... the seats face each other and run along the length of the plane. They are made out of a nylon webbing material and there is not much leg room, everyone alternate knees! The highlight was the sack lunch provided as the crew members strapped us in. We took off about 8:00 am, and due to the loud nose, each of us was given ear plugs. Some people went to sleep right away, others ate their lunch or read. Things were going well and at 12:45 it was announced that we would be landing in about 1/2 hour, people took their last stretch and finished their lunches, etc... Unfortunately, about 10 minutes laters the bad news came, due to poor visibility at McMurdo, awe were unable to land and had to return to Christchurch. It took a few minutes for this to sink in for me, I was so disappointed- 5 more hours on the plane!
---
Contact the TEA in the field at .
If you cannot connect through your browser, copy the TEA's e-mail address in the "To:" line of your favorite e-mail package.