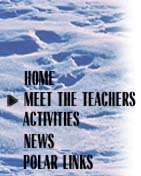 6 June, 1999
TEA 1999
MY DAY IN ANCHORAGE, AND TRIP TO CORDOVA
JUNE 6, 1999
Good morning from Anchorage, Alaska! Once again it is a day of brilliant sunshine and beautiful weather....An Alaskan's delight. I got an early start, since I had planned to do a number of things based on Renee's recommendations. After a hearty and delicious breakfast, I packed my belongings into the car, and checked out of the hotel. Having mapped my way around town, I proceeded on a self guided driving tour making the zoo my first stop. My focus was the arctic animals as it would be interesting to see them up close. And interesting it was. Last year it was possible for me to see some of them in the wild and that was fascinating too. Since it was early in the day, and the zoo was not crowded with spectators, my visit was leisurely. Many of the animals were not as active, yet there was the curious stare as I passed them by. The polar bear was my greatest attraction since this was the only possibility of seeing one up close. The only opportunity to see a polar bear in its natural habitat was to visit the Arctic Ocean. I was a long way from there. After about an hour and a half, I left to return to town to take in the other sights and activities that I had planned.
On my Saturday evening's stroll, I came across a store that had many Alaskan artifacts and fossils from St. Lawrence Island. I decided to return there to browse, talk with the owner and probably make some purchases. This place was a teacher's paradise. There were artifacts everywhere. Fossils of arctic animals, big and small were on display. So were many Alaska Native arts and crafts including ceremonial masks, a carved shaman, various patterns of totem poles, and . beaded jewelry. I received a crash course in Alaska Native history and the legends associated with the items. The various fossils were identified which included bones and teeth of whales and mastodon, tusks of woolly mammoths and walrus seals to name a few. Fortunately, one of the store's attendants, Alberta Kulowiy, was a native of St. Lawrence Island, who was most delightful in relating the local folklore and identifying the different items. Thanks Alberta. I purchased a few items (those which I could afford) and took a lot of pictures and slides. These will certainly enhance my curriculum unit of fossils.
After that wonderful experience, I did a walking tour of the shopping area of downtown Anchorage, finally ending up at the Center for the Performing Arts. There I attended a spectacular Imax theater show on Whales. The movie covered the types of whales, their migratory and feeding behaviors, places of occupation around the world, parenting, communication and play. The under water live action photography was magnificent, and through these graphic scenes, one was able to see the ocean floor at extensive depths, the graceful movements of these enormous animals, skeletal remains of whales (in perfect alignment) along migratory routes, and the thick kelp forests, to list a few of the scenes captured on film. I highly recommend this program to all.
On exiting the show, I saw a crowd gathering outside the side entrance of the Arts Center. Upon investigation, I learned that the Pacific Army Band was preparing for a concert. With time in my favor, I sat and enjoyed the concert. The music and singing were great, and this was complemented by excellent weather. The program lasted for about one and a half hours. Following that I visited The Alaska Native Heritage Center and attended one of their programs. Native dancers who were regally dressed in their native beaded headgear and highly decorative animal skin garments performed some of their traditional dances. It was different, and I enjoyed it. It was a privilege to witness the celebration of another culture. At the center there were Native village exhibits. Following this activity, I left for the airport to get my flight to Cordova.
That flight left at 6.05 Alaska time, arriving in Cordova at 7.05 pm. This too was an excellent flight. Flying into Cordova from Anchorage, presented a great view of Prince William Sound and the Copper River Delta which were flanked by huge snow covered ranges of the Chugach, Wrangell and Mt. Elias. As we descended into Cordova, the Pilot pointed out the Sheridan and Sherman Glaciers, the various mountain ranges, and the delta. One thing that was most striking was the variations in colors of the vegetation and the water logged wetlands in the delta. There were distinct patches of reds, browns, and a variety of shades of green. A brief history of the delta was told, and what impressed me most was the natural forces that are changing the faces of the delta over time, especially the uplifting and sinking of various parts since the earthquake of 1964, the evidence of which was most striking. The meandering rivers and deposits of silt formed a very interesting pattern, one that may pose quite a challenge to the ambitious artist.
Cordova is a very small city with a population of about 2800 in the summer (fishing season) and 1600 in the winter. Its airport is also small.....a one room structure, the features of which are fully seen in one blink. After collecting my luggage, I picked up the vehicle which was reserved for me upon arrival, and drove into town, a 12 mile drive. There I stayed at The King's Chamber Bed & Breakfast, where I received a very royal welcome and treatment by it owners, Sandy and Mark King. Mrs. King and I chatted for a while as she tended her beautiful rock garden, and was kind enough to share with me the ins and outs of the city. Later she took me on a driving tour of the city, showing me points of interest and the Prince William Sound Science Center, where I was assigned for the week. Thanks Sandy. Upon our return, Sandy showed me around the facility including her living quarters, and our conversation continued. We both loved to talk so we covered everything from the purpose of my visit to my teaching career, family, and transplantation to the United States. Similarly, she shared with me about her job, family, and her transplantation to Alaska from New York. Her husband Mark, is a native Cordovan, and so were his parents. After a very friendly conversation, I retired to my living space, organized myself for the next day, and prepared for a good night's rest.
So long , and it's time to say good night. Sign on tomorrow evening to read all about my first day at the Science Center.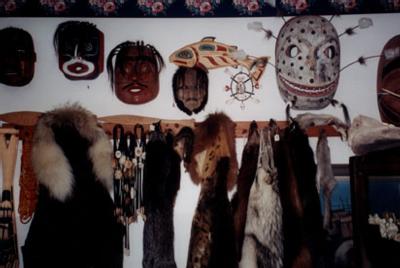 A variety of animal skins, skin parkas, Native masks, and other items in the craft store.

Alberta Kulowiy displayes the skull of a walrus with a dental deformity. Note the many small tusks opposite the larger, carved tusk.
---
Contact the TEA in the field at .
If you cannot connect through your browser, copy the TEA's e-mail address in the "To:" line of your favorite e-mail package.