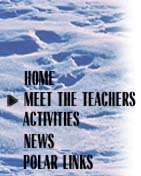 10 July, 1998
Myrtle Brijbasi
TEA/Alaska - 98
Journal Entry 1 - July 10, 1998
Travel to Anchorage, AK
Here I am in beautiful Alaska, and I am so sorry that you aren't with me to enjoy all this Arctic grandeur. But wait a minute! Don't despair! Through my journals you can share all these wonderful experiences with me, because we are about to embark on the greatest and most exciting 3-week field trip of our lives. So come along with me on this wonderful Arctic ride .......A whole new world!!!!!!!
Let's start with my departure from Washington D.C. - Ronald Reagan International Airport. It was 85 degrees , hot and humid. That was enough to say -Alaska and the Arctic, here I come. Then I had the best send off possible, not just from my family, but from Mr. NSF himself..... ...Dr. Wayne Sukow. Both of us arrived at the security area together. We chatted briefly and he wished me an enjoyable and enriching experience with lots to do and report about. The flights were great throughout, cruising at altitudes of 15,000-35,000 ft. with breathtaking aerial views of America - Yellowstone National Park, the snow capped Rockies, lakes and meandering rivers. Even more spectacular was the view arriving into Anchorage - extensive mountain ranges- some just rugged outcrops of rock while others were totally or sparsely snow covered; glaciers poised as though they are waiting for the signal to say -go!; huge ships cruising in the rivers and bays; ice flats that looked like white sand dunes and ox-bow lakes; vast tundra and temperate forest.
Elisa Maldonado, one of my project partners and traveling companion from Seattle, became acquainted as we shared thoughts and anticipations of the next three weeks. We met two other gentlemen during the flight - one Alaskan, and the other a frequent visitor, and they both shared with us the do's and don'ts when we explore the natural Arctic laboratories - the great outdoors. They were very excited for us when they heard about our project , and assure us that our itinerary was just perfect, and wished us the best stay ever.
We were met by Renee Crain, our Project Coordinator, and Noa Levanon, my other project partner when we arrive in Anchorage. We drove into the city, did some last minute shopping for wet-weather gear, checked into our hotel - The Voyager, did a walking tour of the downtown area, stopping occasionally to look at the occasional wild flower. We also visited a few other stores and gift shops and the Stephan Fine Arts Gallery. In the latter parcticularly, the art and craft pieces depicted a richness of Alaskan culture and beauty. After a delicious, but long-awaited dinner, we returned to our hotel. By then it was about 10 pm - bright sunshine. At 11.30 pm, it was still bright sunshine. At this time of year, Alaska experiences twenty-one hours of daylight. Having been awake for about twenty-four hours, I'll crash for the night, rather day, and ask that you rejoin me tomorrow for another day of excitement and wonder. Wow! what a spectacular first day! I can only imagine what the next few days hold in store as we travel to Seward via Valdez. Whittier, and Portage.
ELISA'S ADDENDUM:
Friday, July 10, 1998
**First Day in Alaska**
Flew into Anchorage today. I met Myrtle at Seattle-Tacoma airport. It was real hard to leave my parents, but I know I will see them soon. Myrtle made me feel at homeŠwhen I met her, she gave me a hug. I met Renee and Noa at the airport. We get along real well. When we first got into Anchorage (and out of the airport), we went shopping for our rain gear, which was neat because I kept thinking of all the cool things I will be doing where I will need that much gear! We ended up at Glacier Brewhouse, and while we waited (an hour) we killed time by visiting some local shops with native art in them. The ivory carvings (made out of walrus tusks) are so awesome. I had a halibut sandwich, which was deliciousŠMom and Gordon, you would by proud!
Noa and I walked it off at the mudflats, only a two minute walk from the hotel. There is a park and old house, that is supposedly haunted by its first owner. There were birds, and many mosquitoes! Let's keep in mind, at this time it is 10:30-11:20, and the sun is just setting (marvelous view!!). In the distance, there is a view of snow-topped mountains, where the glaciers are. They are as smooth as glass, but massive. We came back from our walk, and I pressed the flowers I collected. I know that one is a clover, and one of the others is a daisy. It is 12:06 approximately and the sun is still not completely down, at least it is still light outside! So much for my first dayŠhoping good luck for the rest : )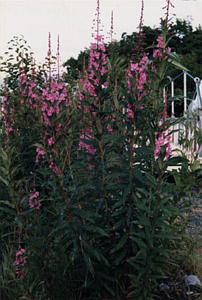 Brilliant pink fireweed occurs commonly along Alaska's roadways because it is a 'pioneer' species that colonize an area following disturbance.
---
Contact the TEA in the field at .
If you cannot connect through your browser, copy the TEA's e-mail address in the "To:" line of your favorite e-mail package.