22 November, 2003
Into the Great White
Today was a mass exodus from McMurdo for the Erebus crew. We spent the morning doing some last minute organizing and packing, and then we waved goodbye to the first team that was heading up for a mandatory, two-night acclimatization stay at the Fang Glacier field camp (see Living at High Altitude for details on Acute Mountain Sickness). Six of our teammates, and most of our gear, were helicoptered to the glacier in two flights. I will head up with the second team on Monday. The Fang Camp is a bare-bones site that can only accommodate six people at a time, hence the two departure dates for the team.
Gear too large to fit inside a cargo bay on the helicopter is carried in a sling underneath (Figure 1). Our skidoos (snowmobiles) were carried up to the Fang Camp this way several days ago. I got to see the flight, but missed getting a photo. It is an impressive sight to see a large snowmobile spinning on a "string" beneath a helicopter. The rest of the gear is packed into the cargo hold and the larger helos can carry 4 passengers at a time. As usual when we head out off station, everyone must be dressed in their complete Extreme Cold Weather (ECW) gear and highly fashionable head-wear completes the ensemble (Figure 2).
We waved off half of our crew and then had some time to explore McMurdo and the surrounding area. A quick trip up Observation Hill (a large hill near station) gave me a great view of McMurdo and Mt. Erebus. Figure 3 shows a 360 degree panoramic shot stretched out flat. The building in the photo is located half way up Ob Hill and houses the seismic receivers (instruments that translate the radio signals from the seismometers and then send the message to the lab via phone lines) for the Mt. Erebus seismometers.
After dinner we took out four snowmobiles and explored near McMurdo Station. We will be taking two types of Skidoo up to the Lower Erebus Hut (our main camp) from the Fang Camp so we needed to practice driving both machines - the larger Scandic and the lighter Tundra. We headed out along the sea ice toward Erebus and practiced driving up some steeper slopes and learned to shift our body weight off the machine as we made turns on a hillside. Not having operated a snowmobile before, I will freely admit that I was a bit scared at first. The thought of hanging off the side of the machine as you cruise along a steep slope is a bit intimidating. But before I knew it, I was having a blast! And coming back down is absurdly fun. Brakes? Who needs those! Little did I imagine back in Texas that I would actually want to accelerate my skidoo over every bump I could find to catch a little air! I highly recommend the Tundra as its front end lifts a little more.
The highlight of this ride was the Weddell Seals that we happened upon (Figure 4). They were just kicking back and taking it easy out on the ice. While they occasionally lifted their heads to check us out, they were pretty indifferent to our presence. I envy the fact that they can lay out on the ice and not feel the cold. While I have been more than comfortable in my ECW gear, it is an ordeal to get so bundled up each time I go out. The best quote I have heard here is "There is no such thing as bad weather, only bad clothes." I heartily agree from deep inside my three layers of polpro, fleece, and a big red parka! We'll find out how good these clothes are tomorrow when we take a full day shakedown (test run) trip out to Cape Royd to see the "Penguin Parade."
--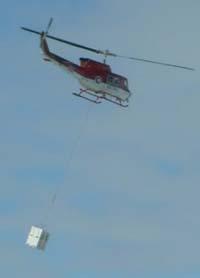 1. Figure 1 - Large equipment is carried beneath the helicopter in a sling. Our snowmobiles went to Fang Camp this way earlier in the week. This is a large cargo crate being lifted for another project. As I watched the helo take off, it was forced to make three attempts becasue it was overloaded and need to burn off fuel. Finally, with great effort, it lifted the cargo crate off the ground. --

2. Figure 2 - The latest in Antarctic fashion - Clive sports the ultra cool "Helo Headware." For anyone who wanted to be in "Top Gun," here is the chance to look like a pilot! --


3. Figure 3 - Climbing Ob Hill near McMurdo provides a great overview of McMurdo Station and Mt. Erebus. This is a 360 degree panoramic view stretched flat. Note Mt. Erebus and its plume in the distance behind the station. --


4. Weddell Seals taking it easy on the ice. Clearly they are appropriately dressed for their environment as they look warm and snug despite the fact that we are bundled in our big red parkas. --
---
Contact the TEA in the field at .
If you cannot connect through your browser, copy the TEA's e-mail address in the "To:" line of your favorite e-mail package.