24 November, 2003
Hurry Up to Wait
Today was a lesson in patience. We were scheduled for two flights to Fang Camp, our 9,000 foot acclimatization camp below the Lower Erebus Hut. We spent the morning scurrying around, finalizing last minute details for our pending flights, only to find ourselves waiting patiently on the weather. Peruse the photos to see if we were successful in escaping McMurdo.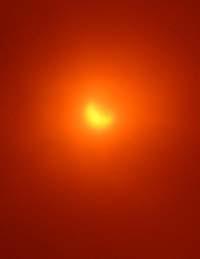 1. Figure 1 – The highlight of our day was the solar eclipse that peaked at 12:08 PM. At McMurdo station, 75% of the sun was obscured (you see the sun as the bright yellow crescent at the bottom of the central disc). The South Pole Station witnessed 90% coverage and Palmer Station on the other side of Antarctica experienced a 65% block out. The light was dimmed, but not to the extent that it appears in the photo. To see the crescent, the photo was taken through two pairs of polarized glasses, hence the low quality resolution. But you make due with what you have.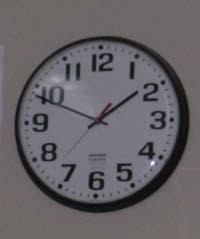 2. Figure 2 – Our first helo flight to Fang Camp was scheduled for 1:40 PM.

3. Figure 3 – Still waiting.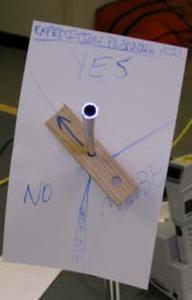 4. Figure 4 – The makeshift "Expedition Planning Aid" can also be used as a "Magic 8-ball." When asked if our flights would make it out of McMurdo today, the answer was hazy.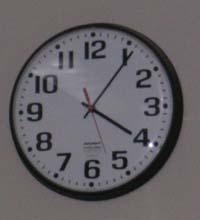 5. Figure 5 – Still waiting.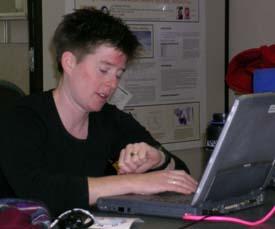 6. Figure 6 – Jackie makes good use of her time, but looks a little impatient as we wait for Helo-Ops to call us with the new flight plan.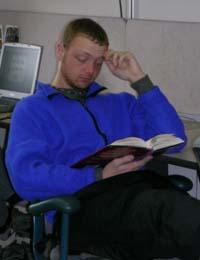 7. Figure 7 – Brian diligently studies for his Structural Geology final exam.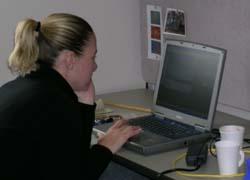 8. Figure 8 – Shauna patiently web-surfs while hoping we take off today.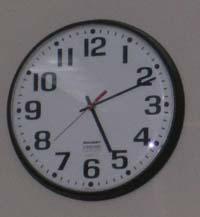 9. Figure 9 – No luck today. The weather has turned bad and the helo can't fly to Fang Camp. We'll try again tomorrow morning.
---
Contact the TEA in the field at .
If you cannot connect through your browser, copy the TEA's e-mail address in the "To:" line of your favorite e-mail package.