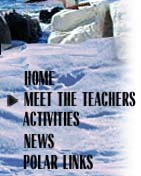 18 December, 2003
The Adventure Continues
We have come down off Erebus and are leaving McMurdo today. We are on the second to last Herc flight to leave the ice before Christmas and will be spending the next two weeks touring the volcanic regions of New Zealand. While I am sorry to be leaving Antarctica when I feel like we have just seen the tip of the proverbial iceberg, I am excited for the upcoming volcanic field trip. Despite living in the computer age, I do not have a dial-up connection on my computer, so I am unable to post journals as we travel through New Zealand. I will be posting journal entries and photos of the New Zealand leg of the trip on January 4, 2004.
Stay Tuned for More Volcanoes
---
Contact the TEA in the field at .
If you cannot connect through your browser, copy the TEA's e-mail address in the "To:" line of your favorite e-mail package.