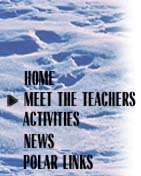 31 May, 1998
TEA Journal
Day 1
5/31/98
We started our adventure today by flying out of Barrow on the morning flight. The day was fairly uneventful yet very busy. We had a few hours in Anchorage and used that time to do some last minute shopping for camera, film, and folding pliers. After a cab ride and a bit of walking we got back to the airport just in time to run into fellow AWS 98 research scientist Tish Yeager and her graduate students Tara, Behzad, and David. Tish was aboard for AWS 96 so it was good to say HI and catch up on happenings of the last two years. In short order we boarded the plane for Nome and away we went. The flight started with news that weather in Nome was poor and visibility was marginal for landing. As we flew north conditions improved and we set down in this old mining boom town almost on schedule. All our gear arrived and once we got settled into the hotel we went out to do a bit of in town exploration. There are remnants of the gold rush all over town such as dredge buckets, towers, and business names that conjure up visions of wilder times. Our tour was cut somewhat short by the wet windy weather which made for pretty miserable walking conditions. The ship was anchored offshore and barely visible with the fog and low cloud cover. The waves were really bashing up against the shore and it did not look promising for any travel from town to ship this evening. Dr. Lisa Clough, the lead scientist for AWS 98 let us know that our suspicions were correct and that we would wait for tomorrow to see how the weather looked before any plans were made concerning transportation out to the Polar Sea. The day had been long so after a good meal it was lights out as thoughts of a rocking and rolling boat ride to the ship seemed a sure thing for tomorrow.
---
Contact the TEA in the field at .
If you cannot connect through your browser, copy the TEA's e-mail address in the "To:" line of your favorite e-mail package.