3 November, 2004
Where is Antarctica and how big is it?
Antarctica is in the southern hemisphere. Many people think Antarctica is far north. In the far north, you will find the Arctic. In some ways they are very similar. They are both very cold! One big difference between the Arctic and Antarctica (besides the fact that they are located opposite sides of the globe) is that Antarctica is actually a continent. That means there is land here. You can't see much of it though because almost all of the land is under ice and snow...LOTS of it too! In some places, the snow and ice are over 2 miles deep! On the other hand, the Arctic is not a continent. In fact, the North Pole is located on a huge block floating ice! Below is a picture of Antarctica from a satellite. It really looks white because of the snow and ice.
Antarctica is not the largest continent, but it is larger than the United States. Remember that the United States is a country and not a continent. Anyway, to give you an idea of the relative size, I include an image for you to compare the size of Antarctica to the United States.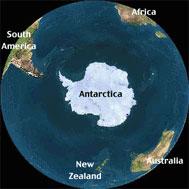 Satellite view of Antarctica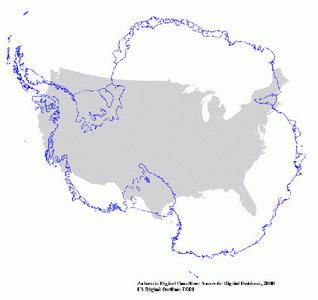 Relative sizes of Antarctica and the USA
---
Contact the TEA in the field at .
If you cannot connect through your browser, copy the TEA's e-mail address in the "To:" line of your favorite e-mail package.