15 July, 2001
Sunday
Woke up and went to tower to collect soil moisture measurements. It was great to see the tower with all its instruments on and in working order. Hyojung came out and double-checked the computer (picture below). She still had a smile going. Since everything had gotten done I hurried with the soil moisture and we were able to catch an earlier flight back to Barrow.
Flying both ways I had the chance to take some pictures from 6,000 up. You have to see the tundra from this height to see what is going on below. The landforms, the meanders, the numerous lakes and pools of water are all visible from here. Studying the tundra should include projects involving the water since you can see that there is so much surface area involved with this. The group has a portable tower they are planning to install at certain "hot spots" up here which they have no had a chance to do yet. When Rommel, in the Sky Arrow, flies his transect he flies over on of the larged lakes between here and Atkasook and it was thought the portable tower could be set up at the lake edge for a short time. This is still in the plans. Towers are a convienient way to collect data on a 24 hour basis but they are expensive to install and keep up. If that was not the case they would probably be common up here!
We landed in Barrow in the late afternoon, downloaded and transcribed data from the trip and then ate supper. Tomorrow is the start of my last week so I am going through the thoughts of things being "my last Monday" etc. I am sad to leave and plan on enjoying every day till I leave this Sunday.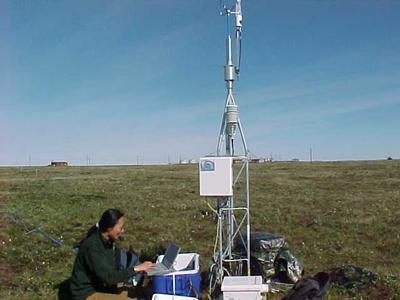 Hyojung is smiling and for good reason. The tower in Atkasook is working and data is once again streaming in.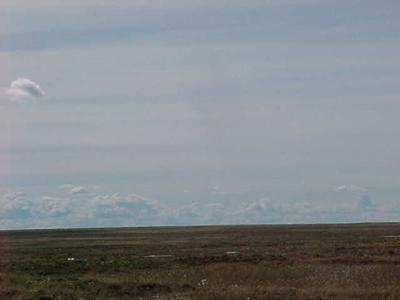 This is what the Atkasook tower looks out on to. The footprint is a 200-meter radius.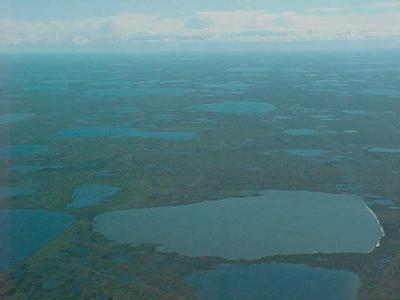 A look at the tundra from a higher vantage point than the tower. One gets a feel for the vast expanse of land in the Arctic.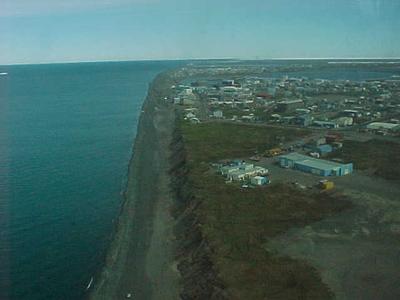 Returning to Barrow. This is looking north up the coast to the Point. It looks like a big city compared to Atkasook, population 200. Notice the shoreline and the cliff. The original village was built on the cliff and due to of years of erosion a large portion has been washed into the ocean. This is an ongoing problem in Barrow and is being documented and watched.
---
Contact the TEA in the field at .
If you cannot connect through your browser, copy the TEA's e-mail address in the "To:" line of your favorite e-mail package.