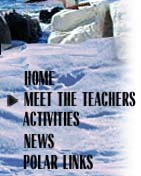 8 October, 2003
Now that we have finally made it to McMurdo, I am starting a new addition to my journal pages; the 'Daily Haiku'. For those of you unfamiliar with what a haiku is, it is a 3-line poem, with 5 syllables in the first and third lines and 7 in the middle line. I will be prodding my team to help and inspire me in the creation of these three line beauties. If you get inspired to write one of your own Antarctica-based haikus, please email it to me. It might even end up in a journal entry.
It's our first full day at McMurdo. We'll be here for the next week getting oriented, trained, and organizing equipment and food for our field camp. The morning began with breakfast in the McMurdo cafeteria followed by a 1-hour tour of the station. It's amazing how much is packed into this small area. Besides the main building with cafeteria, offices, some dorm rooms, a store, lounge, and computer center, there's an amazing array of architecturally indistinct buildings here. In fact, if they weren't numbered it might be difficult to remember which is which. There are a number of dorms to house the support and science staff. In addition, there's heavy equipment, electrical, and machine shops to keep everything up and running as well as all the support buildings with interesting acronyms (BFC, SSC, MEC, FSTP, etc.). The National Science Foundation offices are housed in the 'Chalet', a building that actually is architecturally distinct. Science labs are in the Crary building. There's also assorted coffee houses and gathering centers, as well as a weight room and aerobics room, and even a bowling alley. All this receives electricity from a local power plant and water from the reverse osmosis treatment facility. Wastewater is disposed of at the (what else) wastewater treatment facility. Trash is separated for recycling, storage until it can be flown or shipped out, or incineration. We're scheduled for waste training on Friday to learn the finer points of trash management.
The three of us who are new to the ice spent part of the afternoon learning to drive some of the special ice vehicles. We learned the finer points of driving a Matt Track vehicle—a pickup truck with tracks instead of wheels. The highlight was learning to operate a Piston Bully—a small snowcat. This is a tracked vehicle with hair-trigger steering. I found that it was amazingly easy to over-steer and either skid through the turns or turn in such jerky increments that my passengers were forced to hold on tightly. I'm sure that, with time, I'll learn to smooth out the steering!
Here's what else I learned today. When you hang up your red parka in one of the four coat areas near the galley you should pay close attention to exactly where you leave it. There might be 100 parkas hanging in the coat areas and, guess what—they all look alike. Needless to say, I am now hanging my coat in the same place each time!
Haiku of the day:
Red coats all the same
Hanging on hooks in the hall
Which belongs to me?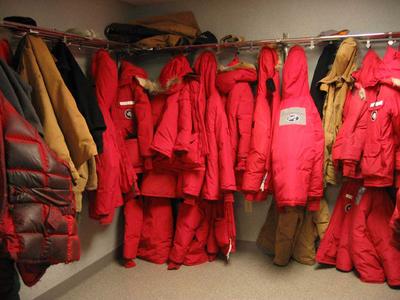 Don't forget where you hung your coat!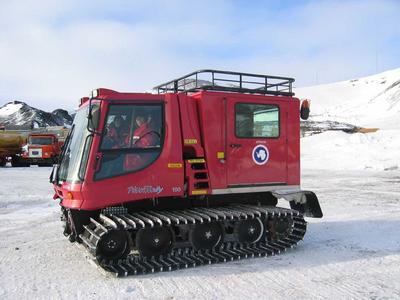 Student driver--learning to operate the pisten bully
---
Contact the TEA in the field at .
If you cannot connect through your browser, copy the TEA's e-mail address in the "To:" line of your favorite e-mail package.