11 November, 2003
Tonight we had visitors in camp. Elizabeth and Allen who work at the MEC (they're the folks in charge of vehicles and vehicle training) came to dinner and brought an extra guest-Brad Ranger, known to all in Antarctica as 'Brad the Boy Scout'. Brad is the 11th Boy Scout to visit Antarctica as part of an official program. The first scout to parcticipate in this program was Paul Siple, who visited in 1928 and worked with Byrd's exploratory group. He went on after his first Antarctic experience to distinguish himself by inventing bunny boots (those stylin' white boots that keep our feet so toasty). In addition, he developed the concept of wind chill and the scale that is used to describe just how cold it feels when the wind is blowing.
Brad traveled here from Atlanta, Georgia, arriving at WinFly in late August. He will stay through mid-February and had been filling his time by joining with a variety of research teams. He has a busy schedule-tomorrow he's off to spend a week or two in the Dry Valleys at Lake Bonney. From there he will travel to New Harbor and then back to McMurdo for a few days. Then it's off to Mt. Erebus with some researchers, followed by a stint at the South Pole. And then=8A=8AWell, Brad says, "I can see everything I can convince people I'm worthy of seeing."
The selection process was arduous. Brad was chosen from a field of almost 200 applicants, all of whom were Eagle Scouts. The process began with a written application and a series of interviews until he reached the top four. The final interview was conducted in Dallas with all 10 of the past Boy Scout parcticipants grilling the applicants. It was obvious to us that Brad was chosen because of his extreme adaptability and affability, as well as his interest in Antarctica. If you would like to learn more about Brad's trip and experiences, you can log onto the Boy Scout web site at www.scouting.org/boyscouts/antarctic.
Daily Haiku:
Dinner guests in camp
Brad the Boy Scout visits us
Learning all he can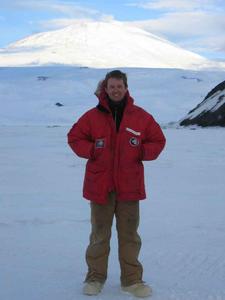 Brad the Boy Scout visits our camp.
---
Contact the TEA in the field at .
If you cannot connect through your browser, copy the TEA's e-mail address in the "To:" line of your favorite e-mail package.