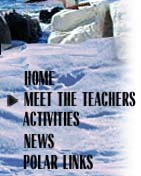 23 November, 2003
We took the day off today and while some snowmobiled into town, I tried a new way to get there-skiing. McMurdo's recreation department organizes a number of events during the spring/summer season. Today's event was cross-country skiing from Cape Evans to McMurdo-a distance of 16 miles along the groomed sea ice road. Around 30 die-hard cross-country skiers signed up for the event.
The question of the day was whether the ski would go from town to Cape Evans or from Cape Evans to town, depending on which way the ever-present winds were blowing. The ultimate goal is to have the wind at your back. If the winds were from the south, we would ski from McMurdo to Cape Evans. With a north wind, we would ski from Cape Evans to McMurdo. Well, what do you do when the wind is blowing from the Northeast? Apparently, you go with whatever is logistically easiest. In this case, it was skiing from Cape Evans to McMurdo, with the wind blowing relentlessly against the left side of my face-when it wasn't blowing straight at me.
As I skied across the ice I couldn't help but reflect on others who had crossed Erebus Bay years before me. In 1916, members of Shackleton's Ross Sea Party spent 4 months huddled near a the stove in the small and drafty hut on Hut Point near McMurdo, while the rest of their group was living in relative ease at Scott's old hut at Cape Evans. The Ross Sea Party's mission was to set food depots across Antarctica towards the South Pole, in anticipation of Shackleton's planned trek across the continent. That trek never happened, since Shackleton and his crew onboard the Endurance became icebound in the Weddell Sea on the opposite side of Antarctica.
The men of the Ross Sea Party had landed their ship, the Aurora, at Cape Evans in 1915. They used Scott's old hut as headquarters for their food-laying expedition and anchored their ship offshore. Unfortunately, the ship's anchor broke during a fierce storm, floating off in the night with its small crew and most of the expedition's supplies. What would you do if your ship and supplies disappeared and left you stranded in Antarctica with winter approaching and little food or clothing? This resourceful group of men scavenged what they could from the area around Scott's hut and were lucky to find an old canvas tent to cut up for clothing as well as old reindeer fur boots that were salvageable for creating custom footwear. In addition, they were able to find enough discarded food to continue with their depot-laying mission and placed the agreed-upon caches as far south as 830 South latitude. Perhaps the most amazing, and tragic, part of this story is that of the 5 men who, after spending the 4 uncomfortable months in the hut at Hut Point recovering from their depot-setting expedition were waiting for the sea ice to strengthen sufficiently to allow them to walk to Cape Evans. They had barely made it to the relative safety of that hut, with 2 men suffering the effects of severe scurvy due to a lack of fresh food. At Hut Point they had been able to regain their health and strength while living on a diet of fresh seal meat. Once recovered, the two men grew impatient with waiting and decided to set out alone across the ice, since it seemed such a short distance to the relative comfort they knew awaited them at Cape Evans. They set off across the ice planning for a 2 day journey-and were never seen again. The remaining three men stayed at Hut Point until they were certain the ice conditions were good for such a crossing. It was not until they reached Cape Evans in mid-July that they learned of the fate of the two who had left earlier.
Needless to say, my little ski along the well-marked ice road had none of the elements of the epic that these men endured almost 100 years ago. Sure, the wind was blowing and it was kind of chilly but I was bundled in my warm layers with plenty of food and water in my pack, as well as a radio to call back to camp if I decided that I'd broken the fun barrier and had enough. I persevered in the wind and had a great time skiing along and reminding myself to take a few breaks to just look at the scenery and remember where I was. While it might not have been the all-time best day of skiing I've ever had, it was definitely the all-time best day of skiing I've ever had in Antarctica!
Daily Haiku:
Ski to McMurdo
Wind blowing against my face
Is this really fun?
---
Contact the TEA in the field at .
If you cannot connect through your browser, copy the TEA's e-mail address in the "To:" line of your favorite e-mail package.