3 November, 2001
Meet Some of the Expedition Members
We finished up labeling the boxes today by about 3:30 in the afternoon. Each box has 14 labels to be attached so it is a slow process. It was much colder and windier today, so it took us longer than we expected. Susan commented that it was cold today. I thought that was pretty funny because isn't it always cold in Antarctica?
Brian Welsh and Markus Frey came in yesterday and were with us today checking on their equipment they had sent earlier. Brian is a post-doctoral fellow at St. Olaf College, Minnesota. He will be towing a radar system behind our train of sleds. The radar will directed down into the ice and send signals back that show the overall thickness of the ice, distribution of land below the ice, and the thickness of the individual layers of ice. He is hoping to be able to correlate these layers to what we find in the ice cores. Markus is German and is currently working on his doctoral degree from the University of Arizona. His project on the traverse is to study the chemistry of the trapped gases in the ice cores. He expects that the gases will indicate a change in the atmosphere due to human influence (i.e., pollution).
I also would like to introduce Cobi Harris and Steve Niles. Cobi is our field mountaineer. She lives in Alaska and has led a number of expeditions in the mountains there. She is also an instructor for Outward Bound. Cobi was one of my instructors for snow camp and I have full confidence in her ability to keep us safe and sound. Steve is from Wyoming and this will be his 9th trip to Antarctica. He will be our camp manager and mechanic. I haven't met him yet because he is already at Byrd Camp getting the equipment and gear there ready to go.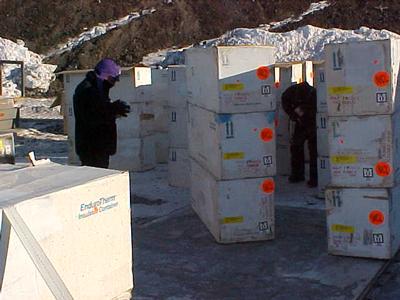 Labeling core boxes. Not exciting, but very necessary.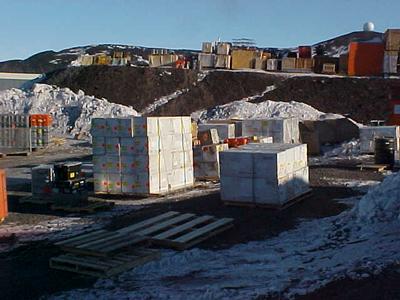 Core boxes labeled, stacked, and ready to go.
---
Contact the TEA in the field at .
If you cannot connect through your browser, copy the TEA's e-mail address in the "To:" line of your favorite e-mail package.