5 November, 2001
Hike up Observation Hill
Temperature: -7° C (19° F)
Wind Chill: -15° C (5°)
Our job for the day was to pack up all the frozen food we'll take with us on the traverse: meat, shrimp, fish, chicken, tofu, vegetables, bread, butter, cheese, and some frozen blueberries and strawberries. Cobi did a great job organizing the menus for 15 people for 2 months-quite a challenge, I would think. We packed two weeks worth of food in each box for a total of four boxes. Then the boxes were weighed and labeled for shipment. Friday and Saturday we will pack the dry food.
This only took half a day, the day was relatively warm, and the wind was down, so I decided that it would be a good day to hike Observation Hill. This is a hill on the edge of McMurdo that has great 360° views. At the top there is a cross that was erected in memory of Robert Scott. I could see Scott Base, the New Zealand base, a socked-in Mt. Erebus, Hut Point, and, of course, McMurdo. It is not a long hike (1/2 hour), but it is steep. It was actually easier to hike up than down because of the slope. At one point coming down, I was sliding on my butt! It's a little scary because if you pick up too much momentum, you know you won't be stopping until you reach the bottom Luckily, that wasn't the case for me.
Gordon Hamilton and Paul Mayewski arrived today. Gordon is Scottish and is an assistant professor at the University of Maine. His primary research is studying changes in glaciers and how these changes are related to sea level and climate. He used satellite imagery to decide where we'll be going on the upcoming traverse. His choice of routes was based on safety (to steer clear of crevasses) and possible drilling sites that would provide useful information about the ice sheet. He will also be studying how fast the thickness of the ice sheet changes and the change of snow accumulation. Gordan came to my school two years ago to speak to my class, and he also called us from the ice. It is very exciting to actually be working with him now. Paul is the field leader of the traverse. He has led more than 30 scientific expeditions to Antarctica, the Arctic, the Himalayas, and Tibet. He even has a mountain named after him in Antarctica.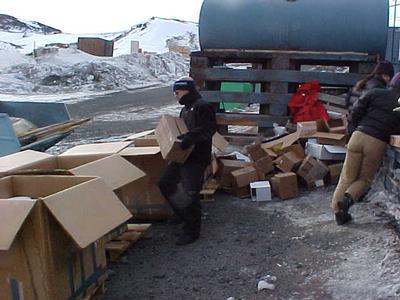 Dan loading a box of frozen halibut for our traverse.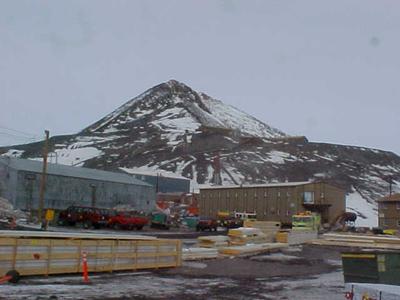 Observation Hill from McMurdo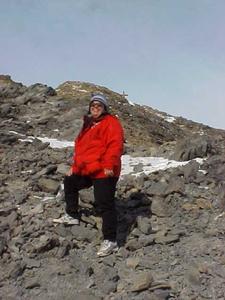 Jan hiking Observation Hill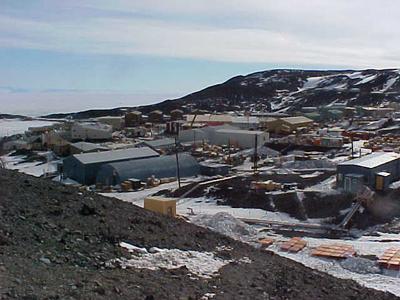 View of McMurdo from Observation Hill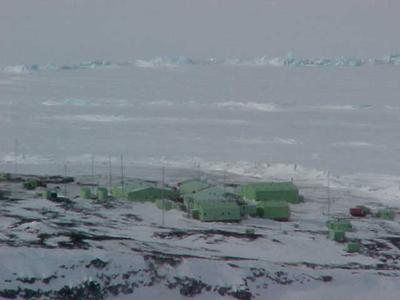 View of New Zealand's Scott Base from Observation Hill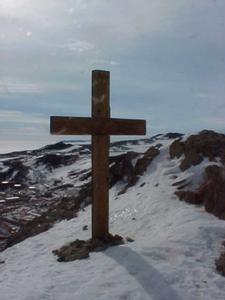 This cross was erected at the top of Observation Hill as a memorial to Robert Scott.
---
Contact the TEA in the field at .
If you cannot connect through your browser, copy the TEA's e-mail address in the "To:" line of your favorite e-mail package.