4 March, 2002
The school on Little Diomede is a public school in the Bering Strait Unified School District. It is known throughout Alaska as a "bush" school because it's location is extremely remote, perhaps the most remote of any of the bush schools in the school district. Diomede's location in the Bering Strait makes accessibility an issue. The teachers who work in the school come here knowing that everything from telephone access to the availability of mail and groceries will be very much effected and determined by weather and the arctic conditions. There are no restaurants or hotels, the only store is the Native Store, and the housing options are either living in your classroom or renting half of a two bedroom apartment from the School District.
Living and working in a bush school means assuming an active role in a community with a very different culture, where you are never really off duty. The opportunity to live and teach in such a small community has many wonderful benefits but it definitely requires an adventurous spirit and tremendous commitment. That said, the opportunity to live and work in a small, arctic community draws teachers from across the states, many of whom have had dreams of coming to Alaska for years. This school year, the teaching staff is made up entirely of women, each of whom brings a unique set of interests and life experiences.
Linda Gies came to Little Diomede from Montana to teach Kindergarten and to fulfill a long dream of living and working in Alaska. She is an amazing teacher, who has found a way to balance the curriculum with the unique experiences and interests of her Inupiat students. Linda readily welcomed me into her classroom time and time again and helped begin to create a connection between our two communities and groups of students.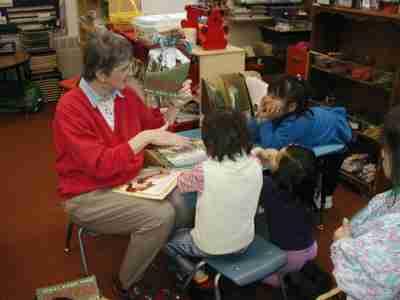 This is Linda Gies reading aloud to her students. She teaches a full day kindergarten class of five and six year olds as well as the Head Start program for three and four year olds. That means that in a school with approximately 42 students (K-12) her class of 14 students is the largest. She has created a very nurturing environment that challenges her students to develop literacy and academic skills while incorporating important subsistence knowledge that draws on and reflects her student's very unique life experiences.

Here is Ms. Gies sharing a walrus skull. She encourages discovery and very much encourages her students to bring develop a scientist's appreciation for the nature and wildlife that is such an important part of life in this environment. Even at his young age, these students have a keen interest in animal studies and the subsistence activities that are so vital to the culture of this community. A key part of the research that Dr. Jolles is conducting here, involves looking at the knowledge, training and changes in subsistence activities of different generations. Although these students are too young to play an active role in the research that Dr. Jolles and I are here to conduct, their interest and knowledge about the subsistence way of life is an important window into the role of subsistence in contemporary life and how it is supported and passed on to the youngest members of the community.

This is the science table that Ms. Gies and her students have created as they study about the animals that live in this arctic region and which play such an important role in the lives and diets of the people who live here. The crab shells, walrus skull, seal jaw bones, and whale vertebrae are the by products of the food getting and hunting activities upon which most families depend.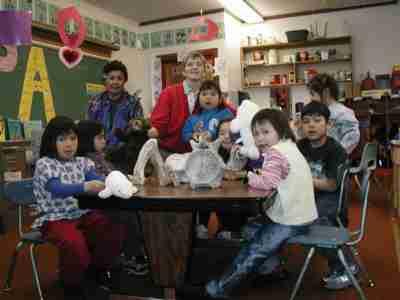 Class photo of Linda Gies, her aide Bernice and some of her four and five year old students.
---
Contact the TEA in the field at .
If you cannot connect through your browser, copy the TEA's e-mail address in the "To:" line of your favorite e-mail package.