9 August, 2000
TEA Orientation- Day Three
Overview
I am writing from the Cold Regions Research and Engineering Lab (CRREL) in Hanover, New Hampshire surrounded by a remarkable group of researchers, educators and scientists from around the country. The level of commitment involved in polar research is extraordinary. Of the sixteen teachers here, eight of us will be going to the Arctic, and eight to the Antarctic. So far, we have no idea which projects we will be working on but I am looking forward to the experience of working in the Arctic as part of a scientific research team. What a remarkable opportunity!
What do you wear?
We have had a chance to see some of the Extreme Cold Weather (ECW) gear that makes living in a polar environment possible. It is not unusual to work for 12 to 18 hours a day and much of that time could be outside on the ice collecting samples, conducting experiments or maintaining very valuable instruments. Nights may be spent sleeping in tents on the ice. Weather conditions can change from hour to hour. The sun may be shining 24 hours a day, but temperatures can easily reach -20 degrees Fahrenheit, which is even more extreme in wind conditions.
The opportunity to conduct research in the Arctic and Antarctic
In remote areas many of the things that we take for granted may not be available.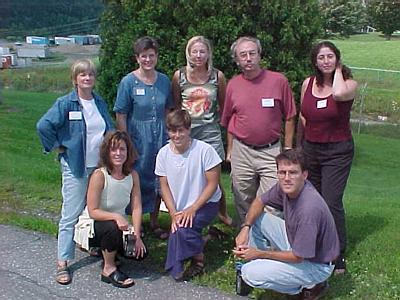 Here are the future Arctic explorers at Orientation!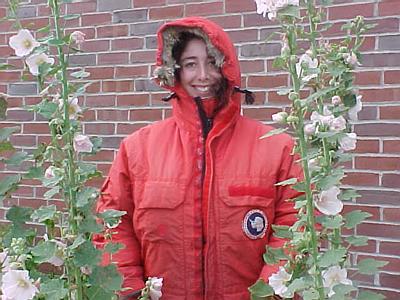 Here you see Dena modeling the latest Extreme Cold Weather parka (ECW) in sunny New Hampshire.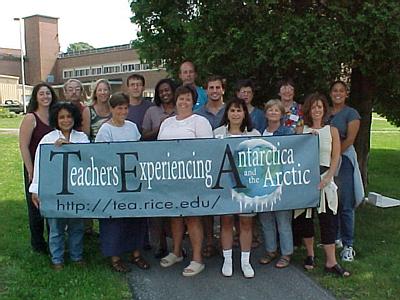 Summer 2000 TEA Orientation at the Cold Regions Research and Engineering Lab (CRREL).
---
Contact the TEA in the field at .
If you cannot connect through your browser, copy the TEA's e-mail address in the "To:" line of your favorite e-mail package.