11 March, 2002
Climate
Sunny, High 18, Low -8
Let's Talk Science: Why do we measure snow density?

The purpose of this project is to study heat flow (heat flux) from lake ice. The magnitude of heat flow depends on the temperature gradient, snow depth, and snow density. Snow density is also needed to calculate thermal conductivity.
Imagine sleeping in the middle of the boreal forest in northern Alaska at 1 am with a dry, fluffy sleeping bag. Due to its ability to retain heat from your body, air molecules are trapped within the "stuffing" of your sleeping bag providing excellent insulation.
You'll sleep all night! However, with a wet, thin sleeping bag, there is a small amount of air molecules present. Your body will lose heat through this dense, conductive material.
Dense snow is similar to a wet sleeping bag, heat will flow quickly due to lack of air molecules. During snowfall, air molecules are trapped within the snow as snowflakes pile on top of each other. More air molecules in the snow will reduce the heat flow and supply better insulation.
World Ice Art Championship

Martin's snow and ice class went on a field trip to the Ice Park just outside of the University. Ice sculpturers from worldwide
parcticipated in this annual ice carving competition. We had the opportunity to observe a few artists at work.

Click on this website for more information and pictures. http://www.icealaska.com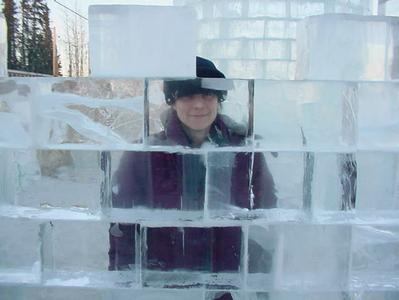 1. Welcome to the World Ice Art Park.

2. Believe it or not, this whole sculpture is made of lake ice.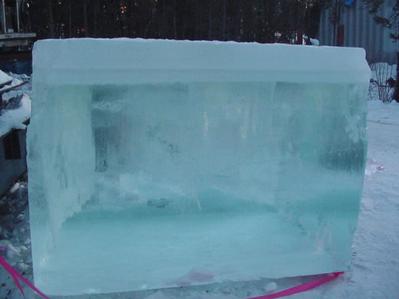 3. Notice the top portion of this block is white and the bottom is clear. As explained in my January journals, there are two kinds of lake ice in Martin's project: snow ice (top) and congelation ice (bottom).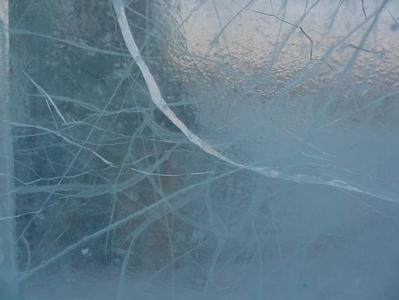 4. Ice fractures often happen when ice blocks are harvested from lakes. Due to shifting temperatures, fractures are caused from continuous contrasting and expansion of water molecules.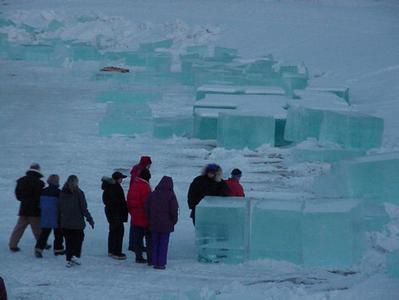 5. Blocks of lake ice are stored on this lake until the competition. Martin and his class walk on this lake to get a closer view.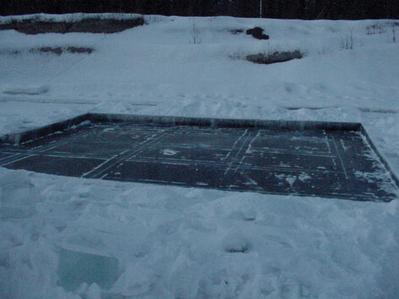 6. This 25 square feet area is used to harvest ice blocks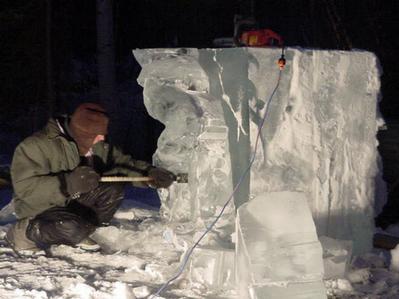 7. Ice artists from LA began their multi-block competition. This one week long competition began tonight, artists do not hesitate to waste time and work as much as possible before the deadline.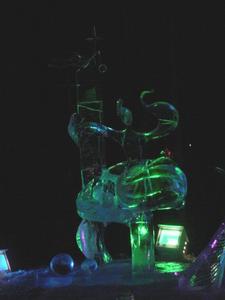 8. The evening sun disappeared so good pictures were not possible. This single block ice sculpture is approximately 10 to 12 feet high. I hope to return to this park again during the day - more pictures to come.
---
Contact the TEA in the field at .
If you cannot connect through your browser, copy the TEA's e-mail address in the "To:" line of your favorite e-mail package.