10 August, 2001
Hello form Hanover.
Today was our last full day of orientation here in Hanover, New Hampshire. We spent the majority of the day discussing the possible ways that we can transfer the polar experience to our classroom, our students and our colleagues. We will have a wrap-up session tomorrow morning and then it will be back to Cincinnati on Sunday.
I wanted to post an entry today primarily to introduce all of you to my Arctic research group. In the photo below you will see the six of us headed to the Arctic. On the left are Shannon Graham from Vancouver, Washington and Betty Carvellas from Essex Junction, Vermont. The large body in the middle is of course me and to the right are Dallas Trople from Sedro-Woolley, Washington, Kim Hanisch from Ogallala, Nebraska and April Cheuvront from Morgantown, North Carolina.
Our Arctic group is a terrific crew and we have come to know each other very well. We have developed a real camaraderie. As we are winding down our final days here, I know we are all looking forward to sharing our Arctic experiences when we get together again.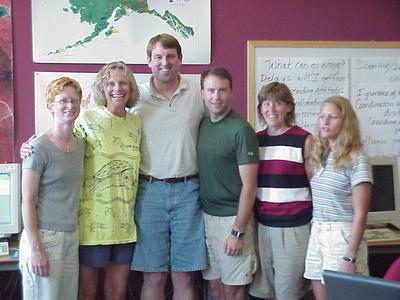 The Arctic research group
---
Contact the TEA in the field at .
If you cannot connect through your browser, copy the TEA's e-mail address in the "To:" line of your favorite e-mail package.