26 February, 2000
Extreme Cold Weather (ECW) Clothing Issue, Magellanic Penguin Colony
Question 7: What species of penguins live in the southern part of South America and the Antarctic Peninsula?
This morning, before we pick up our van and head for Torres del Paine National Park, we have to go to the AGUNSA warehouse at the port and get our issues of Extreme Cold Weather (ECW) clothing. It will be on loan to us until we return to Punta Arenas in May. Although we sent clothing sizes and measurements down to them several months ago, it is wise to check to make sure everything is in the bag and fits.
When we got to the ECW clothing warehouse, Mario was waiting for us with all of our gear packed into green army duffel bags. Getting it back into the bag after we unpacked it was difficult! The warehouse has aisle after aisle full of different supplies and sizes. Our ECW issue includes: rainsuit, red USAP jacket and pants, wind pants, down vest, chamois shirt, two sets long underwear, one set fleece top and bottom, gaiters, balaclava, hat with ear flaps, four pairs mittens, one pair gloves, four pairs socks, water bottle, Sorrel boots and two pairs liners. After we check our gear, we sign for it and are ready to leave!
Today we will go only as far as Puerto Natales for the night, approximately 250 km. Driving north we went to visit the colony of Magellanic Penguins at Otoway Bay. These penguins come inland and make burrows in the sandy soil or under shrubs in which to lay their eggs and raise their chicks. The juvenile penguins have fledged (adult feathers have grown in), and most of them have left the rookery. The adults are now sitting around waiting to molt (new feathers grow in and push out the old ones) before they go out to sea until next October, when it is time to come ashore again to raise another batch of chicks. While they are out at sea, they swim as far north as Rio de Janeiro, following the species of fish they eat.
Puerto Natales is a town of 18,000 people on the shore of Seno Ultima Esperanza (Last Hope Bay). There were hundreds of King Cormorants sitting on pilings and many Black-necked Swans swimming in the bay when we drove into town.
Answer 6: Seven: I will start in Alaska Standard and travel through four zones on my way to Florida in the Eastern Standard time zone. Then it is two more zones to the east for Chile. The Antarctic Peninsula is on the same time as Chile so Palmer Station is 6 hours different (later) than Anchorage.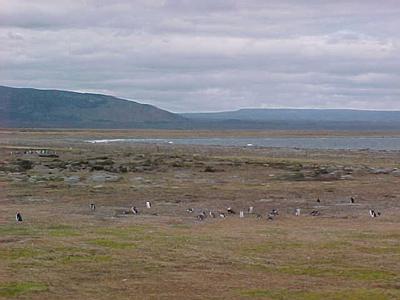 Magellanic Penguin Colony on Otoway Bay, Chile.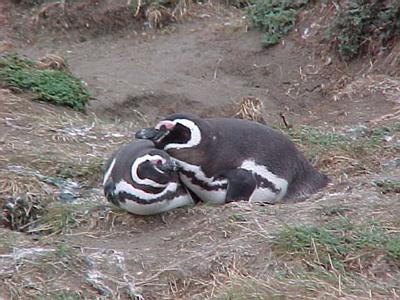 Pair of Magellanic Penguins resting while they molt.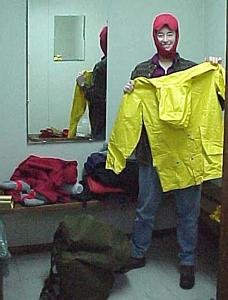 Trying on some of my ECW clothing issue in Punta Arenas!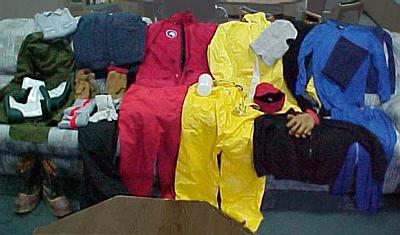 The whole ECW kit and caboodle; it does all fit in the green army duffel.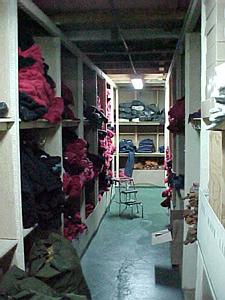 Part of the AGUNSA clothing warehouse in Punta Arenas.
---
Contact the TEA in the field at .
If you cannot connect through your browser, copy the TEA's e-mail address in the "To:" line of your favorite e-mail package.