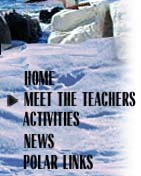 2 March, 2000
On board the Gould in P.A. harbor; lifeboat and survival suit drillQuestion 12: How much more quickly does water cool your body temperature than air? The ship is still moored at the dock this morning. We can go into Punta Arenas and run errands, but we have to be back on board by noon. Randy, the Marine Projects Coordinator (MPC), has our passports and airline tickets. He will take all the paperwork for those on board through immigration, after which no one can leave the ship. At 12:30 there is a safety briefing in the 01 Lounge for all passengers. Everyone has to bring their immersion suit and life vest. Found out why they wanted us to bring our safety gear with us. We got to try it all on and do a lifeboat drill (thankfully, after we took off the immersion suits!) As passengers, our basic role in any emergency is to report to a central muster point and stay out of the way of any individuals that know what they are doing. We (especially personnel in transit to Palmer Station) are just cargo that moves around and needs to be fed. First on were the life vests, not very protective gear for these latitudes, but they do help us float and are quick to don (put on). They have lights and whistles as do the immersion suits. The immersion suits are more like a diving drysuit with neoprene "seals" around wrists, neck and face. They have attached gloves, hood, waterproof zipper and a float pillow behind the head. They minimize your exposure to cold wind and water, but are unlikely to be completely sealed against water. You would live longer with one than without one, but one of the main points the mate made was that even with an immersion suit on, you should avoid going into the water until the last possible moment. After we re-rolled the suits and put them into their bags and back into our rooms, we trooped up to the 03 deck behind the bridge. There are two rigid-hulled, covered and watertight life boats with engines aboard the Gould. Each one can hold all of the people on board. In addition, the automatically when they get 15-20 ft under water in case there isn't time for the crew to release the life boats. All the passengers practiced entering the boats and strapping themselves in. There are benches with harnesses along the sides and down the middle. The harnesses look like something for an amusement park ride or small aircraft. There are shoulder straps as well as a lap belt because the sea conditions would give us a very wild ride. The boat can roll 360 without harm so we need to be attached. Food, water, flares, and first aid gear are stored inside. We were going to be leaving at 3 pm. Everyone got out on deck with their cameras and waited. And waited. And we didn't go anywhere. It turns out there is an electrical problem that is not allowing the bridge to control the starboard engine. Major problem! By evening we got the word that the crew had exhausted their resources and couldn't fix it. The company that built and operates the ship is sending a technician with parts down from Louisiana. He will be here by 5 pm tomorrow. So we wait until then.Answer 11: The two features that a ship must have to qualify as an icebreaker are a strengthened hull and enough engine power to push itself up out of the water, onto the ice. The Laurence M. Gould is not technically an icebreaker as it only has two stern engines. It is ice strengthened and has a powerful bow thruster for maneuvering in ice. The Nathaniel B. Palmer, the USAP icebreaker, can break through 20 ft ice with its four stern engines.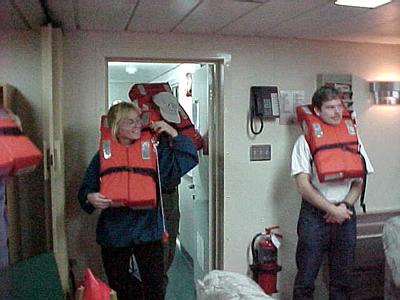 Katrin and Jim trying on their life vests.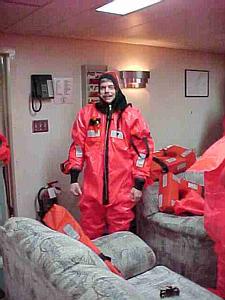 Dr. Jim McClintock ready to be immersed.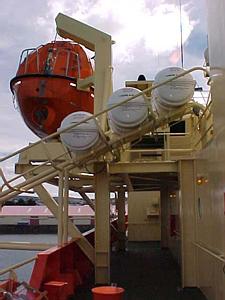 One of the Gould's life boats and three automatically deploying life rafts (in the white cannisters) stored over the O2 deck walkway.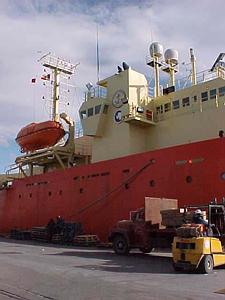 Side view of the R.V. Laurence M. Gould with life boat.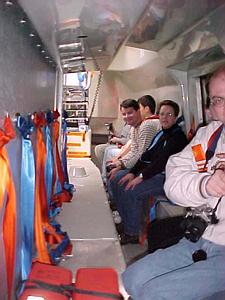 Inside the life boat's left side (away from the entrance door). Bruce Furrow looking at the camera.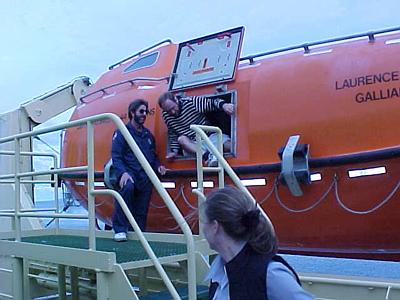 Exiting the life boat after the drill.
---
Contact the TEA in the field at .
If you cannot connect through your browser, copy the TEA's e-mail address in the "To:" line of your favorite e-mail package.