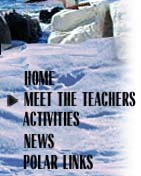 2 May, 2000
A Day at Palmer StationQuestion 73: What does the Antarctic smell like? Now that I have been on station and writing journal entries for nearly two months, you probably have a pretty good idea of what types of things go on at Palmer Station. But since most of the information has been given in glimpses and isolated chunks, today I will run through a typical day end to end. Remember from earlier journal entries that Saturday and Sunday have their own variations. 8 am is our 022 (my science group's number) meeting where we go over the plan of the day, covering everything from where and if we will be diving and lab work assignments to logistical information on our return to the States and progress reports on the status of everyone's research goals. Usually I wake up at 7 am to have time for a breakfast muffin and to clear my head with the New York Times-Fax crossword, then I set up or take down an amphipod bioassay (see journal 4/17 for more information) before the meeting. Breakfast is a do-it-yourself, cold affair unless you want to cook your own on Sunday. We normally have juice, tea, coffee, milk, cereal, and muffins. 9 am is our usual morning dive time; it takes around half an hour for divers to prepare their equipment before getting into the boat, so those diving usually go directly to the dive locker from the meeting. Tenders have another 15 minutes grace period before they need to gear up and get the boat ready and loaded with our dive equipment. As we near the end of the season, the morning dive time will move to 10 am as it gets light later in the day. We also have to spend more time sweeping snow off the boat. As soon as we return to the station from a dive, collection bags are taken to the outside aquarium tanks on the deck to keep the invertebrates and algae in good condition. Tenders tie up the boat, and everyone helps lug all the gear back into the dive locker where the divers spend about half an hour showering off and rinsing, cleaning and hanging up their gear to dry. After changi lab sorting, identifying, documenting and starting to process the morning's samples. Lunch is served cafeteria-style at noon. If we are diving in the afternoon, that happens around 1:30 or 2 pm with fewer divers than on the morning dive. Those not involved in diving or tending work in the lab and aquarium or on research papers and other writing. I often spend that time writing journals and answering email. Dinner is served, again cafeteria-style, at 5:30 til 6:30 pm. Around 7, those cleaning the kitchen and dining area (gashing) start mopping and scrubbing. Otherwise, we go back to the work we left before dinner. (Important side note: The food here has been excellent! We are close to South America, and the Gould comes south at least once a month with freshies--fresh vegetables and fruit. Our cook, Bob, is a wonderful chef. Chinese, Indian, traditional lamb at Easter, special birthday dinners, great pizza--he can do it all. Great cookies, pies and desserts, too! He is a very important part of the station's good morale. Having a variety of excellent food to eat makes for a happy group of people!) At 8 pm a call goes out on the station PA system to announce the movie being played in the lounge in GWR. Station staff catches up on reading, email communications, workouts and other leisure pursuits. My evening schedule usually ends with a few last procedures in the lab (usually an amphipod bioassay) and then collapsing into bed (occasionally following a dip in the outdoor hot tub--really only an aquarium tank fitted up with a heater) around 11 pm. We have reached most of our diving goals. Today's dive in Arthur Harbor was really preparation for the team's next field season here rather than work for this one. With Bill Baker in the boat helping me to record information, Drs. Amsler and Iken looked for potential sites for manipulation experiments that they will carry out during their trip to the ice in the fall of 2001. Finding a sizable, flat, rocky underwater area that will be relatively undis around here!Answer 72: None of the other stations are really "close," but the closest is Vernadsky Station (Russia) on an island to the south. Rothera (United Kingdom) is on Adelaide Island, even further south, and St. Martin (Argentina) is on the Peninsula at roughly the same latitude as Rothera. To the north at the tip of the Antarctic Peninsula are Bernardo O'Higgins (Chile) and Esperanza (Argentina). There are also 11 stations on the South Shetland Islands. Palmer Stations is in daily radio contact with Rothera and regular contact with Vernadsky.
---
Contact the TEA in the field at .
If you cannot connect through your browser, copy the TEA's e-mail address in the "To:" line of your favorite e-mail package.