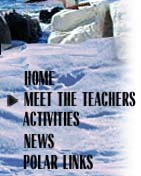 8 May, 2000
Raytheon Support Staff 2 Question 79: Why are the large pelagic schools of herring, capelin and sand lance that are eaten by seals, whales, and sea birds in northern waters absent from the Southern Ocean? Continued from 5/3/00... Jason Medley is the coordinator for the construction work going on this fall and winter. He schedules and plans the various stages of construction, orders materials, coordinates travel, cargo and arrival times for materials. He manages and supervises the people who are working on the various parts of the project (fire suppression system team, electricians, plumbers, etc). They are building a new medical clinic, logistics office, store, fire suppression system, workout room, berthing rooms and lounge in GWR. He works closely with the station manager, work order planner and logistics. Jason troubleshoots project problems by email and phone and makes sure the carpenters are on schedule, as all other trades follow their work. He is a 4th generation builder and also does property management and real estate appraising work while in the States. Beth Watson is the work order planner. She schedules all support work going on anywhere on the station and keeps track of time cards for paychecks. For everything from preventative maintenance work to environmental inspections, from repairs to construction, Beth tracks who does what and how long it takes. She purchases materials for Facilities, Engineering, Maintenance and Construction and assists the station manager with a variety of reports and records. One of the other year-round jobs at Palmer is the network administrator, currently Allisha Ochs. She is responsible for managing the station's network and all local computers. This mandate includes email, fileshares, printing, hardware systems, help desk, database applications, virus protection, etc. Basically, she has to keep our electronic information and communication online and alive! Allisha is part of our connection to the world. She has had training as a PC technician bu learning on the job. Another group of people who form a very important connection with the outside world are the cargohandling and materials logistics crew. These are the people who organize what goes where when. After others fill out purchase requests, Rebecca Shoop and Cheryl Hansen deal with the resulting materials, prioritizing cargo by telling AGUNSA what they want loaded on each ship. They are responsible for offloading the ship, unloading the containers, receiving materials, assigning MAPCON inventory numbers and giving the material to the people who want it. They also deal with retrograde cargo (stuff leaving the station). They keep track of it all on the cargo tracking system (CTS). They get to drive our big equipment to offload cargo. This has been a busy winter for ship operations with lots of containers on station for construction and haz mat, 21 so far! Rob Edwards is the supervisor of lab operations. This is a full time job for him. Most of the year he spends in Denver planning with science teams for the needs of the up-coming season. When he is deployed on site, he oversees science support and deals directly with the labs and science teams. He reviews supplies of lab materials, checks on the lab facilities, troubleshoots and works with science teams in the field. He is responsible for Safety and Environmental in the labs (haz waste), making sure experiments are safe and reasonable, making science material orders from science and NSF planning reports and coordinating field help. A large part of his job is being Point of Contact for science projects both in the States and on station. Last is station manager Chris Cunning. He is ultimately responsible for all Raytheon Polar Support services at Palmer Station and is the senior USAP representative in the Peninsula area for the National Science Foundation. Being station manager is a multifaceted, hands-on job at Palmer. Besides filling out lots of reports, Chris must deal with finance (payroll, budgeting oversight of departments, in communication with RPSC in Denver, on site day-to-day stuff (i.e. running out of water), safety (he is the fire marshal), planning, scheduling, and assignments (for housing, travel, even house mouse duties). All RPSC people report to him, making him the coordinator of information, meeting leader and facilitator. Chris has done 6 deployments in his 5 years with the USAP working his way up at McMurdo from mechanic to cargo coordinator (load planning for planes), to assistant supervisor of logistics, to supervisor of USAP cargo (where he oversaw all logistics movement to South Pole Station), to station manager at Palmer. Putting up flags for incoming ships is his favorite part of the job. Still sleeping and dozing in my berth today, although I did make it up in the evening for dinner and a movie in the lounge. The seas are great, only 6-8 ft! The ship could be a cradle gently rocking for the amount of time I am sleeping.Answer 78: While you might reasonably guess that 1,160 fish species live in the Southern Ocean, the waters south of the convergence are inhabited by a maximum of 120 species of fish.
---
Contact the TEA in the field at .
If you cannot connect through your browser, copy the TEA's e-mail address in the "To:" line of your favorite e-mail package.