8 January, 2003
People to Meet
One of the great things about being in Antarctica is meeting all of the different people who come to the Ice, and hearing their stories of what brought them here.
Meet Ken Welch. Ken is a helo pilot in Antarctica. He had spent years in the military so is not a newcomer to flying. The first time I met Ken, Jen and I were bumbling packing the A-Star. I could tell that he was in a hurry with a busy schedule, but we had a lot of trouble figuring out where to put things and how to close the doors. We didn't get to talk on that trip, but this morning Ken had to stay at F6 until a mechanic could come out and fix his helo. The side basket was slipping and was threatening to turn under his landing rail which was obviously a dangerous situation.
Ken sat and drank some tea with us, and we had a nice visit. He was originally from the northeast, but his southern accent gave away that he now lives in Lafayette, Louisiana. He has been down here since October and will stay until February. His company sub contracts helo pilots to the NSF, (National Science Foundation), and the rest of the year he flies supply missions to oil rigs in the Gulf of Mexico.
Being a helo pilot in Antarctica is one of the best jobs you can have. You meet lots of people. You are in the know about what is happening and where. And you get to see the most fantastic scenery while you work. I don't think I will ever get to be a helo pilot, but I don't think I will ever grow tired of the helo rides while I'm here!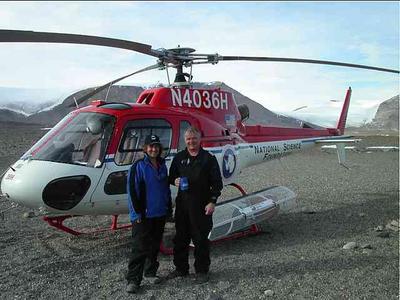 1. Ken Welch and me in front of the A-Star
helicopter. Can you see the tilt of the side basket?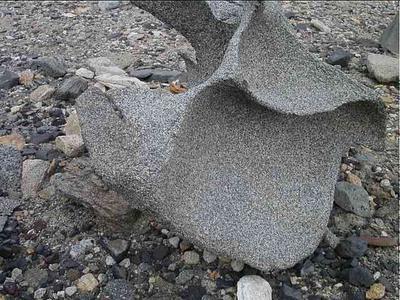 2. A really cool ventifact. Look at how the wind
carves artwork in the Dry Valleys. I wonder what it is doing to my face!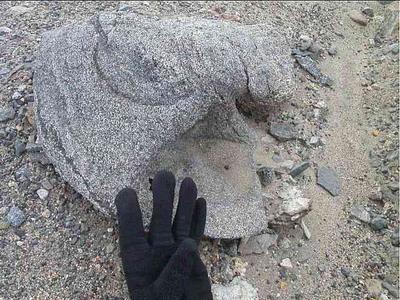 3. This ventifact looked like a huge sea turtle to
me. The glove is to show you its scale.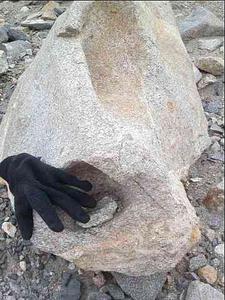 4. Another neat example of a ventifact.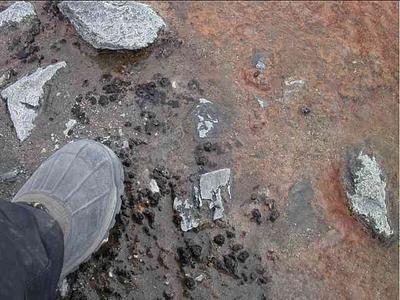 5. Today we saw some very orange algae. In this
picture you can see both black and orange. My boot should help give it scale.
---
Contact the TEA in the field at .
If you cannot connect through your browser, copy the TEA's e-mail address in the "To:" line of your favorite e-mail package.