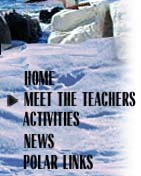 10 November, 2001
Today was a good day to catch up on my journal writing because it was so cold and windy. Tim's tent actually flew away. I think he, too, is beginning to realize that Antarctica has a mind of its own. The wind gusts can be quite strong. I set my big heavy red parka down for one minute, and I had to run after it, despite the fact that I had a heavy wrench weighting it down. All helicopter flights out of McMurdo were cancelled. Rob Robbins was scheduled to return to McMurdo today, but he couldn't get back. Since tomorrow is Sunday, flights will not be operating again until Monday morning. His extra day's "stay-over" gave the perfect opportunity to interview him. His life is much like a history book, so with delight I heard the story of "his" Antarctica. This ice continent makes an impact by pushing all inhabitants to be stronger. I've only been here a week, yet I've felt the challenge to push beyond on several occasions. The most interesting thing about Rob is that he hasn't missed a summer season in Antarctica in the past 23 years. He has also spent two years wintering over as a station manager in McMurdo.
It's amazing how different events in our life trigger other connections. Rob's road to Antarctica began when he worked as a lifeguard on Johnston Island in the mid-Pacific. His dad worked for a company there, but it was this connection that started his diving career. It was here that Rob first heard about Antarctica. He arrived in Antarctica in 1979 to work as a GFA (General Field Assistant) which entailed doing whatever needed to be done. He shoveled snow and was in the general labor pool. The next year, he was a survival school instructor at McMurdo during the summer and the station manager during the winter. During this period, the military was the main overseer of the U.S. Antarctic stations. Rob managed the 13 "non-navy" scientists and civilians who worked at the Berg Field Center (the BFC issues equipment and supplies), the bio lab, the garage, and the power plant. He also did some diving during the winter, as well as ran the dive locker that summer in Palmer. In 1981/82, he was the boating coordinator in Palmer for the summer before heading to McMurdo as the BFC manager the following summer. He was the BFC manager at McMurdo from 1982 through 1985. The logistics of getting from McMurdo to Palmer is an interesting fact in itself. McMurdo is on Ross Island located near the Ross Ice Shelf. The Palmer Research Station is on the peninsula, which is a great distance away. Instead of flying across Antarctica to get to Palmer, Rob had to leave the continent entirely to get from one end to the other. Deployment to McMurdo is through New Zealand, while most enter Palmer by way of the Drake Passage >from South America. On one occasion in 1984, Rob worked the season at McMurdo before heading to Palmer, via New Zealand, Tahiti, Easter Island, Santiago, and Punta Arenas, Chile. Rob has worked the McMurdo and Palmer circuit five different times. He usually stayed five or six months in McMurdo, then anywhere >from 6 days to 8 months in Palmer. The six-day stint involved doing an underwater survey to determine how to repair a pier. He then went back the next two years to "fix" the problem. He spent one summer as the camp manager at Seymour Island in the Weddell Sea. In 1986/ 87, Rob managed the paleontology camp for 23 scientists who were there to study the K/T boundary. The scientists were finding fossilized ammonites, whales, shark's teeth, pollen, and marsupial bones.
He spent 8 years as a commercial diver in Antarctica. He was contracted to do repair work, construction, and welding under water in McMurdo and Palmer. He has been the Science Dive Coordinator from 1995 until present. His role is to coordinate the dive operations in Antarctica. He runs the Recompression Chamber in McMurdo, which treats divers for the bends. (This can occur when the blood gets bubbles from nitrogen if a diver ascends too quickly.) He also hires divers to collect specimens for scientists who need diving services provided. He orders any needed equipment and repairs. He authorizes divers, which brings him to Explorers Cove. Rob is here to certify and check Phil Forte out on the Surface Supply Diving System. (See journal entry: November 9th.) Rob said that diving operations started in Antarctica around 1947. How wonderful it is for Rob to be part of that history! Now that the interview is over, I need to get back to sorting forams. Dr. Bowser showed me how to pick out and differentiate between the different forams that are being collected in the sediment at the bottom of the ocean. [Feature story on "foraminifera" coming soon.]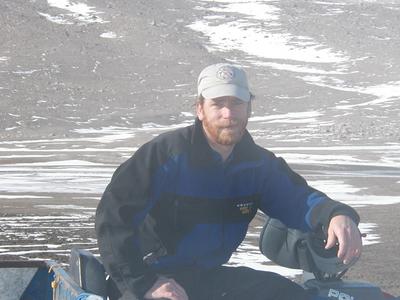 Rob Robbins, the Science Dive Coordinator for Antarctica, spent several days at our field camp. He came to certify one of the divers on Dr. Bowser's research team on the diving technique for surface supply diving.
---
Contact the TEA in the field at .
If you cannot connect through your browser, copy the TEA's e-mail address in the "To:" line of your favorite e-mail package.