22 November, 2001
Thanksgiving in Antarctica:
Dr. Bowser, Dr. Alexander, Phil Forte, and I flew by helicopter to Lake Hoare. While it only took us about 10 minutes to fly up the valley, it took Dr. Pawlowski and Dr. Korsun about 7 hours to walk there. It was a beautiful day and the view of Lake Hoare from the helicopter was spectacular. The blue sea ice, the massive Canada Glacier, and towering mountain was a perfect setting for their field camp. Their camp was set up differently from ours at Explorers Cove. They had a two- room building: one large kitchen area with long tables, and one room with two bunk beds, tables, and computers. They also had two "rocket" commodes out back along with an outhouse. The rocket commodes use fuel to burn human waste. Most of the occupants slept in individual tents near the glacier. This camp can accommodate 15 people. Solar panels were in place to provide power to the camp. Twenty people came to celebrate Thanksgiving including the two pilots and others from McMurdo and Lake Fryxell. It was wonderful to hear about their projects in Antarctica. One group of scientists with the LTER (Long Term Environmental Research) project were taking hydrology measurements at Lake Hoare, Lake Bonney, and Lake Fryxell. These three lakes with surrounding glaciers follow each other down the valley. Some people showed up in unusual hats or wigs to provide a little amusement. Thanksgiving away from loved ones at home can be a little hard, so laughter helps keep people in the moment. Without a doubt, our families were missed and in our thoughts. By keeping in the moment, we could also find joy in spending time with interesting people. I was excited to see some people that I had met in snow school and on the plane coming to Antarctica, as well as Tim, our Eagle Scout. I left with a memory of spending time with a group of very special people. I'll never forget this Thanksgiving in Antarctica.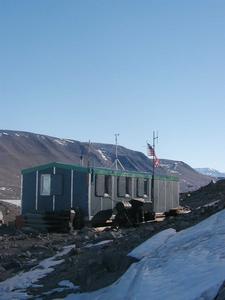 The field camp at Lake Hoare where 20 people came to share Thanksgiving dinner.

This helicopter and pilot brought six people to the Lake Hoare field camp for Thanksgiving dinner.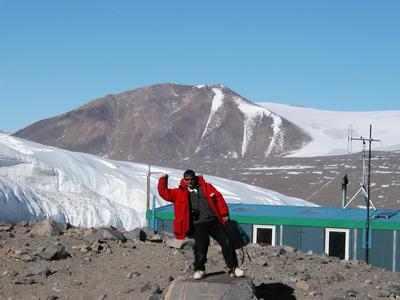 Dr. Alexander at Lake Hoare. He spent the first hour taking pictures of beautiful setting that surrounds Lake Hoare. The field camp is in the shadow of the massive Canada Glacier.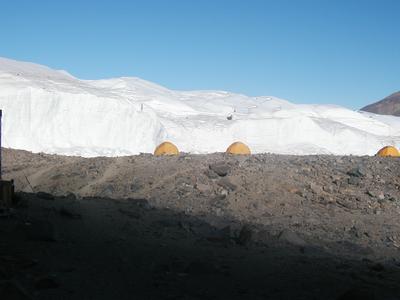 Many of the people living at Lake Hoare sleep in tents near the glacier. What a beautiful sight to see each morning as they climb out of their tents!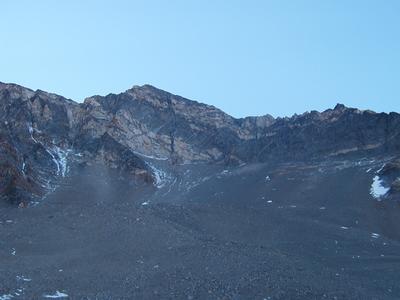 This mountain towers over the field camp at Lake Hoare. It really stands out as it lends color to the surrounding ice and glaciers.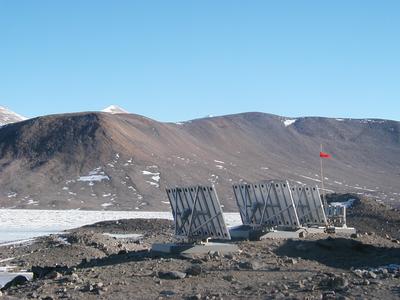 Solar panels are used here at Lake Hoare to provide power for this camp.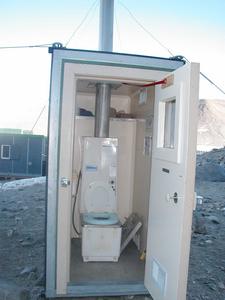 The "rocket commode" at the Lake Hoare field camp burns human waste.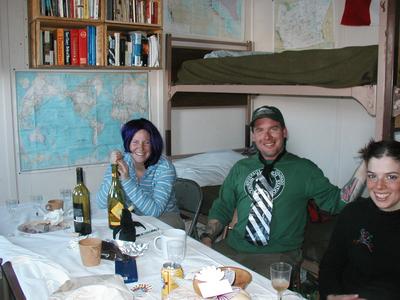 Meeting new friends on Thanksgiving Day was the best part of this Thanksgiving. Notice the wig and "duct tape" tie. Somehow these simple additions to Thanksgiving created laughter, which was needed as we thought about our own families. Nicole, on the right, was wearing a little wire turkey pin that she had made for the occasion. I was so excited to share Thanksgiving with her because we had come to Antarctica together on the C141, and we attended snow school together. Somehow those two events seem to bond people closely together.
---
Contact the TEA in the field at .
If you cannot connect through your browser, copy the TEA's e-mail address in the "To:" line of your favorite e-mail package.