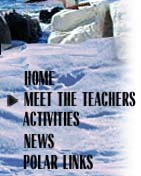 5 November, 2001
This is the day that realization hit that I am in Antarctica, one of the most remote places on Earth. For the first time since my arrival, I knew that I was "no longer in control"
I am finally coming to accept the fact that Antarctica has full control over what can and can't be done. Antarctica is a great distance from the rest of the world, and it's not always easy to get what you expected, hoped, or needed. The greatest lesson I'll probably learn from this Antarctic experience is that I must let go when something doesn't work and move on to what will work. It's no longer about what I want, but rather changing to fit each situation. Long hours of planning and preparation have had to be put on hold or revised. With each day come a new lesson, a new frustration, and above all the constant little surprises that seem to give great joy. This is Antarctica and despite the frustrations, I love it!
Antarctica is a challenge. It takes a great deal of time and energy to attend to self needs. The major chore is deciding on the appropriate clothing. The parkas and jackets have many pockets, and it is easy to forget which pocket has what in it. Cameras and batteries are protected from the cold and wind >from inside pockets or in the top part of my bib overalls. I usually have two pair of gloves and two hats on me at all times, plus a neck gaiter and assorted other items like sunscreen and lip balm. It is hard to keep track of it all! The weather is unpredictable, so it is imperative to always be prepared.
My biggest frustration has been in getting phone or computer connections out to the rest of the world, or even from one camp to the next. The Explorers Cove field camp has limited connections. Higher-resolution photos can't be sent to my web page from the field. They must be sent back to McMurdo by helicopter or transmitted whenever I can get back to the base. Dr. Alexander, one of the team members, has graciously offered to do the first set of journal entry transmissions for me, since he is presently working in the Crary lab at McMurdo. Email is also limited from field camp. Instead, this camp is set up for quick messages. To read my email, I must first save it to disk and read it off line. Most of my email will be answered when I get back to McMurdo. Today, I had to make preparations for living and working in the field. I didn't take any pictures, due to the time spent in the computer lab writing journal entries and getting photos prepared for my web page.
Today I felt the door close, only to find a light in the window. When I gave up control, I found six incredible team members stepping in to help me make this transition to Antarctica. Without a doubt, I have the best research "team" in Antarctica. Notice the emphasis put on "team". The day ended with an enjoyable visit to the Scott Base to meet with the New Zealand divers/scientists.
---
Contact the TEA in the field at .
If you cannot connect through your browser, copy the TEA's e-mail address in the "To:" line of your favorite e-mail package.