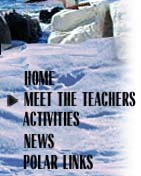 21 December, 2001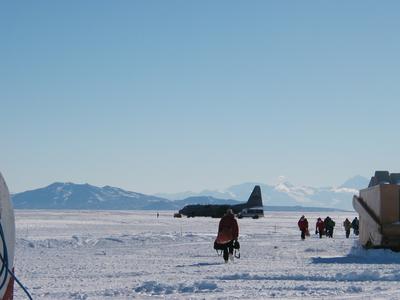 Leaving Antarctica: The C-130 waiting on the Pegasus Runway

Before I left for Antarctica, I told my students that it "could" take up to ten days to get on or off Antarctica. Little did I know that I would be speaking about my own experience. I was scheduled to leave Antarctica at 1:00 a.m. on December 13th. On December 12th at 10 a.m., I arrived at the appointed "bag drag" dressed in my extreme cold weather gear (ECW) with all of my bags. Most of our bags were checked at this time. (We only kept a handheld carry-on bag). We were weighed along with our gear in preparation for the flight. As the day progressed, I started to notice a change in the weather. Three low-pressure fronts were moving in off the sea ice. By dinnertime, our flight had been canceled due to high winds and snow. The worst storm in nine years was hitting the whole area around McMurdo. The 60mph winds made it difficult to walk outside. I felt fortunate to witness the strong winds blowing the snow as it swirled around buildings. It rarely snows in Antarctica, which is one of the driest places in the world, so it was exciting to see snow falling as we walked outside to experience this change in weather. After four days of blowing snow, it was a beautiful sight to see snow drifts three to six feet high. (Photos of the Blizzard: December 15th journal entry)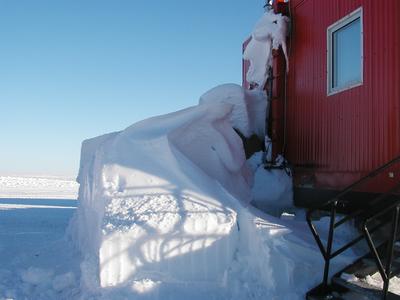 Even days after the blizzard, evidence of deep snow drifts still remained at the terminal.

At the runway, I was told that the snowdrifts almost covered the buildings and were as high as the windows on the LC-130 military planes. Once the weather cleared, the real work began! The snow-packed runways on the ice shelf had to be compacted again in order to accommodate the weight of the planes. The roads to the runway also had to be cleared for travel. I was initially scheduled to leave from Williams Field on the LC-130 (a turbo prop plane with skis). I was "bumped" when the number of passengers on the plane were cut back to reduce weight on the plane, as well as to allow extra room for two med evacs (people that needed to go to Christchurch, New Zealand, for medical attention). I was rescheduled to leave on December 19th, but one of the C-130's engines lost power upon descent to the Pegasus Runway.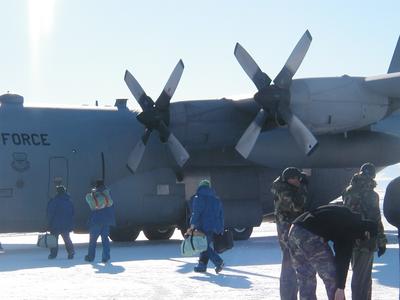 The C-130 is a military turbo prop plane with wheels.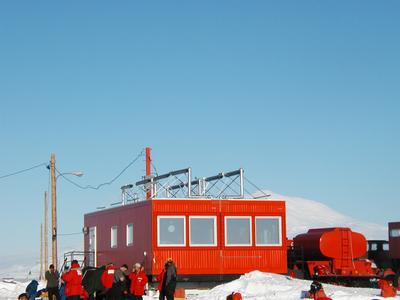 I spent the night at the terminal at the Pegasus Runway, which was a box-shaped room with a freezer door. At 4:30 a.m. we were told that we wouldn't be leaving, but would be making the drive, which was over an hour, back to the McMurdo Research Station. It was now December 20th, and my clothes had been in storage since the 12th. Since I only had one change of clothes it was fortunate that the laundry room was in my building. We were rescheduled for a late afternoon departure, so all 52 passengers showed up dressed in ECW gear at 5:30 p.m. We turned in our room keys, and climbed into "Ivan the Terra Bus", which had wheels as tall as my shoulders. Once again, we traveled the 18 miles over the snow-packed roads to the Pegasus Runway. (The Pegasus Runway is on a glacier on the ice shelf).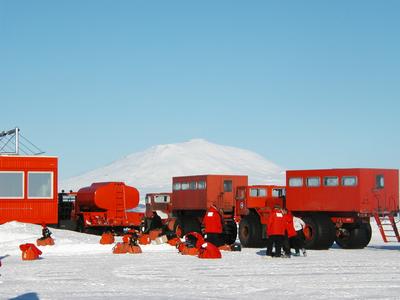 Mt. Erebus and the red tracked Deltas are a nice sight, even with tired eyes. We had just spent the night at the terminal. Antarctica is a place of many surprises. Not leaving on schedule was a tiring ordeal, but suddenly catching a view of Mt. Erebus beyond the vibrant red color of the vehicles was a nice surprise.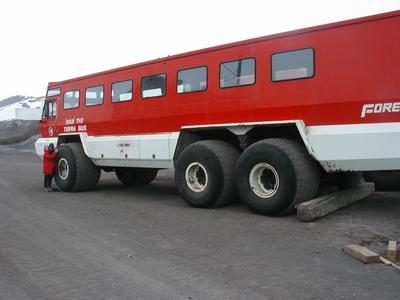 This photo of "Ivan the Terra" bus was taken before the blizzard. As I stood next to the shoulder-high wheels, I didn't realize at the time how essential this vehicle would be in getting me through the snow for the flight home.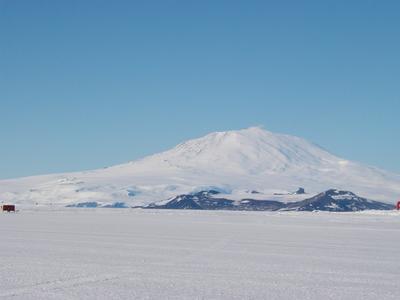 As I climbed the steps of the plane, I turned one more time to see this great ice continent. Tears came into my eyes as I looked with awe at Mt. Erebus, the southern-most active volcano. As I looked at the plume of smoke rising over the mountain, I knew that it would most likely be my last time to ever view this truly majestic site. I intentionally turned to frame Mt. Erebus, the mountain that I had come to love, to be my last sight of Antarctica. When I was in my field camp, Mt. Erebus was the first thing that I looked for each morning when I opened the door of the Jamesway Hut. Whenever I looked out over the sea ice to catch a glimpse of this wondrous mountain, I always felt as if I had stepped into a picture in a National Geographic Magazine.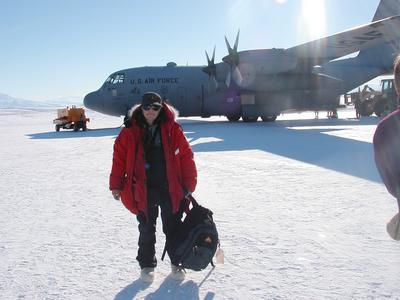 Even though we were ready to board the plane, doubts that we would really depart on schedule still lingered in our minds.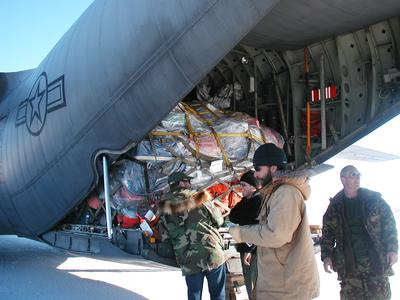 Our gear was packed into the cargo area at the back of the C-130.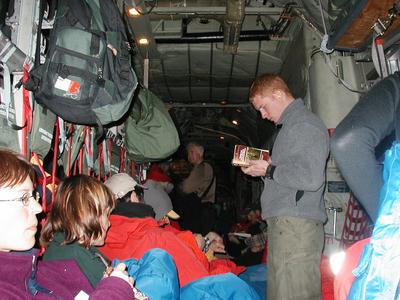 At 9:00 p.m. on December 20th, our C-130 flown by the New York National Guard was the first flight of the year off the Pegasus Runway. As the plane flew the seven and a half-hours back to Christchurch, New Zealand, I caught a glimpse of darkness through the small windows of the plane. This was the first "nightfall" that I had experienced in the past two months. We arrived in Christchurch at 4:30 a.m. on December 21st. I arrived home exhausted on December 22nd after flying 36-hours from Antarctica. I had finally made it home to share Christmas with my family. It was my best Christmas gift. I will never forget Antarctica, or the love I have for this harsh, but spectacular white continent. Along with getting the opportunity to parcticipate on a science research project, one of the best parts of this Antarctic experience was the people that I met, especially my six incredible team members on Dr. Sam Bowser's research project (including Dr. Steve Alexander, Phil Forte, Dr. Sergei Korsun, Dr. Jan Pawlowski, and Dr. Neal Pollock). Dr. Bowser, along with the divers on this team, dove beneath 12 feet of ice to collect single-celled protists called foraminifera (forams) in the top one centimeter of sediment at the bottom of the ocean.

This field experience was made possible by the National Science Foundation's Teachers Experiencing Antarctica and the Arctic program. It is facilitated by the American Museum of Natural History, the Cold Regions Research and Engineering Laboratory, and Rice University. I would like to extend a special thank you to the National Science Foundation and Guy Guthridge for placing me with Dr. Sam Bowser's project, to Dr. Stephanie Shipp who gave me guidance from the beginning, Arlyn Bruccoli for coordinating this effort, and to my husband and family for encouraging my growth. I also appreciate Dr. Don Byerly from the University of Tennessee for telling me about the TEA program. My affiliation with the Center of Excellence for Science and Mathematics Education at the University of Tennessee at Martin, the Tennessee Earth Science Teachers Association and the Tennessee Educators for Aquatic Marine Sciences, as well as the Middle Tennessee Gem & Mineral Society and the Middle Tennessee Rock Hounds have added so much to my own learning. I would also like to thank my West Elementary "family", the Wilson County School District, members of the community, Betty Trummel (TEA mentor), PASCO Scientific, and Dell Computers.

We do not travel alone. Many people have touched my life and guided my own exploration into the unknown, and for this I am thankful.

"We shall not cease from exploration…And the end of all our exploring…Will be to arrive where we started…And know the place for the first time".- T.S. Eliot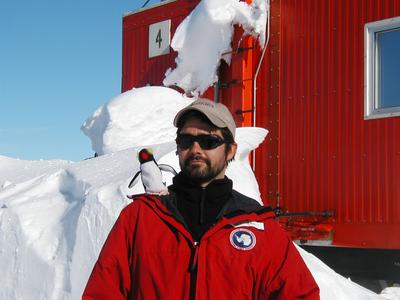 When I arrived back home, I found myself with over three weeks of journal entries to write and get on-line. I did not write any journal entries during my last week in my field camp. When I went back to McMurdo, I opted to meet and interview as many people as I could in order to experience the science and the people who support science at this research station. I also found that interviewing people from the power plant, the water treatment (desalination) plant, firefighters, helicopter techs, vehicle maintenance, carpenters, plumbers, and other support people gave me a real appreciation for the effort and planning it takes to keep a research station up and going in such a remote land.

I met Mike Cameron, a scientist with the Weddell Seal Ecological Project , at the Pegasus Runway before the flight home. Kolene Krysl, a TEA from Omaha, Nebraska, parcticipated on this project during the 2000-2001 field season. To learn more about the Weddell Seal project: See her journal entries on the TEA (National Science Foundation's "Teachers Experiencing Antarctica and the Arctic" program) web page ../. Click on "Meet the Teachers", then "Previous Antarctic Explorers". Mike Cameron also shared a wonderful site for additional information: http://siniff3.ecology.umn.edu. I enjoyed spending a few moments talking to Mike about the project since I had the opportunity to see the Weddell seals on the sea ice and in the dive holes near our field camp at Explorers Cove. Last year my students followed Kolene Krysl's field experience during her time in the field, so I appreciated this time to meet a member of her team. I view learning as a series of "stepping stones" or "building blocks" as each piece is connected to other learning. For this reason, I have valued learning about other science projects taking place in Antarctica. It gives me a greater understanding of Dr. Sam Bowser's project, and how it fits into the whole picture. Learning is much like putting pieces into a puzzle. The "whole picture" cannot be seen unless the individual pieces fit together.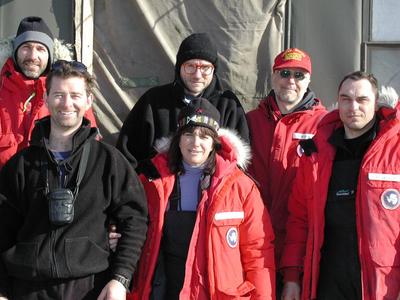 While in Antarctica, my team members constantly reinforced the fact that learning is about making discoveries. I also learned that making discoveries is not only about science, but also about discovering abilities and potential with ourselves. One of the greatest lessons I learned in Antarctica was that it is essential to be flexible and to learn to adapt to different situations. We are not always in control, so when something doesn't work as planned, it is important to find other solutions, or acknowledge when to let it go. Due to the remoteness and extreme cold weather, Antarctica was in full control of what worked or what didn't. Many times we tend to grow the most when we are forced to find other solutions. I constantly saw Antarctica pushing people beyond limits, only to see strength emerge. Getting the opportunity to see how people reacted to problems is one of the best lessons that I took away from Antarctica. It was a wonder to see the "human spirit" prevail time and again as people adjusted or found other solutions. Antarctica turned out to be one of the best learning experiences of my life. It is this amazing "spirit" of Antarctica and the people who "belong" to this great continent, which makes science possible in such a harsh, extreme environment. I left Antarctica with the sense that all that come to this great white continent take a piece of Antarctica into their hearts, while leaving part of themselves behind.

Through this experience, I hope to help others realize that learning is a major part of our lives…it goes beyond the classroom. For me, science changed the way I learned. It changed my "need" for learning and it helped me see connections to other learning. It only takes seeing the sparkle in the eyes of a 9 -year old (or 90-year old) to realize that "learning and discovering" is the source of enthusiasm and energy. It's not just about what we know, but also knowing what to do with the knowledge that makes a difference. Learning provides growth and change, as well as enables more choices in life. It truly is a gift we can give ourselves. Antarctica was a challenge, but it was also a place and time in my life that pushed me to grow. This continent, along with my six-team members, definitely left a mark on my life.
---
Contact the TEA in the field at .
If you cannot connect through your browser, copy the TEA's e-mail address in the "To:" line of your favorite e-mail package.