10 November, 2000
FYI answer for 11/09/00
It snows more on the outer continent or coastal areas than it does near the South Pole and interior of Antarctica. The average snow accumulation is less than two inches per year for the interior and thirty-five inches per year for the coastal areas.
The vast amounts of snow and ice that have slowly been built up to create Antarctica's ice cap have been deposited over millions of years.
Days and nights all mix into one living here in Antarctica in November. The sun circles the horizon more than 45 degrees above the sea ice surface. After being here for over a week now, I have figured out where the sun is in the morning and where it is in the evening. The working hours here vary from 8:00-9:00 a.m. to 8:00-9:00 p.m., and then we make and have dinner together. The most difficult adjustment to the 24 hours of sunlight is looking at a clock or my watch at 1 or 2 a.m. and realizing that 8:00 a.m. is just around the corner.
I am spending the next month and a half living here near Big Razorback Island. This camp is located 13 miles from McMurdo Station. The distance is longer by vehicle travel because of the many land and ice formations along the way. Our living quarters are four fish huts. Fish hut #5 is the largest (20' x 12') and called a living fish hut. It is our kitchen and gathering hut. There is a cooking counter, food shelves, and a large table in the center that we eat at and sit around in the evening to work on our computers, read, and visit. Fish hut #16, the smallest (12' x 8'), and #18 (15' x 10') are sleeping huts. The beds are wood bunk beds, and we sleep in sleeping bags. Fishing hut #11 (15' x 10') is a lab hut. This hut does not have a very pleasant odor because all the equipment that is used with the seals is stored in this hut as well as tools and our trashand recycling storage. We have four coolers sitting outside our living hut that we use for food freezers and one inside for our refrigerator. We have an outhouse for our bathroom needs. We get electricity from a solar panel mounted to hut #5. We use the electricity for our computers. We don't need lights. Our heat comes from diesel fuel tanks attached to the living and lab huts and propane for the sleeping huts. Our telephone is a radio phone but can be used just like phones at home. We cook on two Coleman camping stoves and use Coleman ovens on those stoves for baking needs. Our cleaning water is melted snow and drinking water must be brought in, as is our food, from trips to McMurdo once every one to two weeks.
Getting ready for work always begins with packing my ECW (extreme cold weather) gear bag. Anytime you go anywhere that you are away from the station or camp, you must take your ECW bag and a survival bag or two so that every person has survival equipment for himself. This is because there is always a chance for a fast moving storm to come through anytime and from any direction, and it can trap you wherever you are. The ECW bag has all the extra gear that helps to protect you or extra pairs of things like socks, gloves, work trousers, and face coverings, to change when bottom layers get wet. Survival bags are equipped with a portable camp stove and fuel, a sleeping bag, a tent, stakes and digging tools, dehydrated food, and cooking utensils and dishes. Some survival bags are two-person and some are one-person bags.
There are two ways to get to work each day, on foot or on a Skidoo snowmobile. We must travel to other islands and land forms where the seals live to collect data, tag the new pups or untagged adults, and collect tissue and blood samples from time to time. Big Razorback is about 150M (~450Yds) from our huts. The next closest island is Little Razorback, which is one mile from here, and the farthest location is near McMurdo. We travel by snowmobile to get to these locations, thirteen inall, then walk around those areas to each seal that is on the ice.
FYI
Weddell _________ teeth project forward at an angle ____________ than other seals. This ________________ allows them to 'rake' or scrape across ice hole openings to keep them from freezing shut.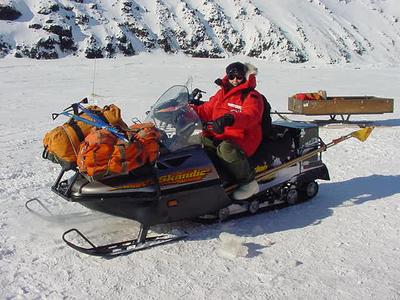 Just getting ready to drive to work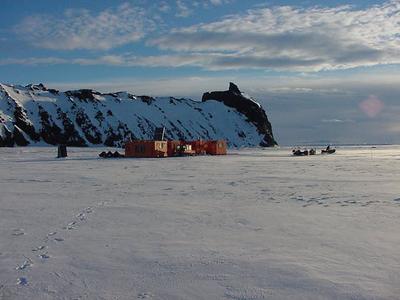 Welcome to my neighborhood at Big Razorback Island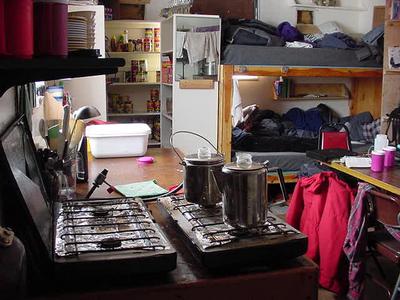 Hut 5: a part of the 'living' hut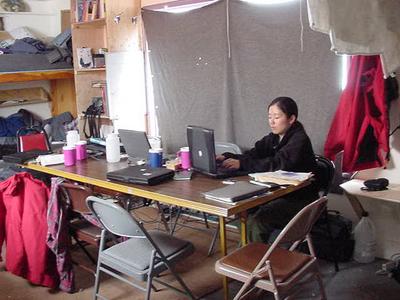 more Hut 5: the other part of the 'living' hut, and here is Yoko Mitani
---
Contact the TEA in the field at .
If you cannot connect through your browser, copy the TEA's e-mail address in the "To:" line of your favorite e-mail package.