23 November, 2000
FYI answer for 11/22/00
The best known seals of the southern seals is the Weddell seals. While sunning themselves on the ice, they are sleepy, inoffensive creatures, snoozing companionably in clubs of up to a dozen. In the water they are lively and alert.
What would Thanksgiving be without a turkey? It would be like today, Thursday , November 23, 2000. It was supposed to be a normal day of work. I'm not trying to be a broken record, but we had bad weather again today. The morning seemed promising, but by the noon hour we weren't able to see Little Razorback, our gauge for going to Turks Head.
The census group, Cory, Mike, Dan and Shawn, took off in the helicopter for out-of-the-area tagging work today. The helicopter was able to come in and land this morning while the weather was still holding up well. The helicopter is called an A-Star, which seats four passengers and the pilot. They traveled about ten miles over the lower Erebus cliffs and to a place called Horseshoe Bay. They tagged nineteen seals that have never been tagged before and nine that had to be retagged.
Thanksgiving Day ended with everyone gathering in our living hut for the best Thanksgiving meal we could come up with from our food supply. We had chicken breasts, tofu, canned corn, stuffing, mixed vegetables, and cornbread. We played cards after dishes and ended another cloudy, windy day with little to report about.
FYI
Science ______________ takes place in Antarctica because of three common principles: it is research that cannot be done ______________ else in the world, it is research that is the highest ___________ science, and it is research that contributes to solving a ____________ problem.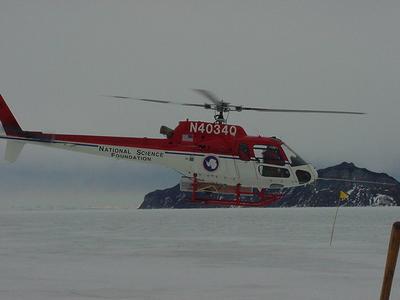 Faster and easier way for the census crew to get out of the study area
---
Contact the TEA in the field at .
If you cannot connect through your browser, copy the TEA's e-mail address in the "To:" line of your favorite e-mail package.