5 November, 2000
FYI answer for 11/04/00
If you go to bed cold and wet, your body cannot get warm. You should move around, eat or drink something warm, and go to the bathroom before you go to bed.
Hypothermia is a condition in which the body is cooling from the inside out. Frostbite is when the body's skin tissue is freezing or already frozen.
It would nice to tell you that this science researcher/teacher on ice had the day off. It didn't seem like anyone else did either. I found many people in the lab working and others discussing travel to their remote field sites or the Pole. The day was partly sunny when it began for me, but by mid day we were again in Condition 2. Many researchers who are trying to get to their sites have been put behind schedule for two to four days now because of the weather.
FYI
Life in _________________ depends on the weather. Planes and ____________ can't fly in the wind and poor visibility. Even _____________ into the wind is difficult for a person here on the ice.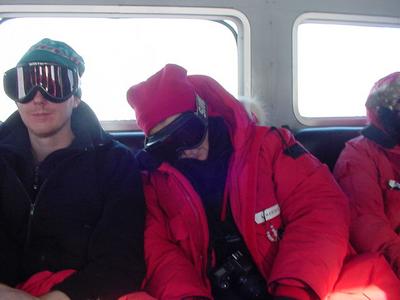 Science is heavy stuff if you think about it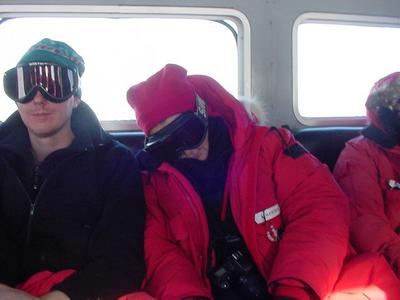 Science is heavy stuff if you think about it

Another Happy Camper graduation - Class of 2000
---
Contact the TEA in the field at .
If you cannot connect through your browser, copy the TEA's e-mail address in the "To:" line of your favorite e-mail package.