12 October, 2003
Pisten Bully trip to Cape Evans
This Sunday I went with the fish group on a visit to Cape Evans where we checked the fish huts and toured Scott's Hut.
The journey out was by pisten bully, an incredibly rough journey over the satrugi, but the views were worth it. Here at Scott's Hut, the staging for the journey to the South Pole occurred. It is a very large hut capable of supporting twenty people. There is a barn to one side where the ponies were kept, and one large room with bunks, kitchen, laboratory and dark room. I was amazed at how much science was done here. The British were highly organized. It is very dark inside, and the snow has piled up around the hut. Not too many people get a chance to see this hut and I felt quite fortunate. It is located at the base of Mt. Erebus, which towers above it so high that you tilt your head back to see the top. The hut is fantastically preserved by cold. As you enter you pass by penguin eggs and seal blubber. On a table in the back is a penguin stretched out ready for dissection. All the food containers are carefully aligned, chemicals all in their bottles, and beds are still made.
The hut had also been used by Shackleton, and several men of his expeditions died here. A memorial cross is located on Weather Vane hill nearby.
Tomorrow marks the last day of our balloon campaign. Hopefully we will get a chance to recover more instruments on the helicopter. The Sunday science lecture was on Ozone.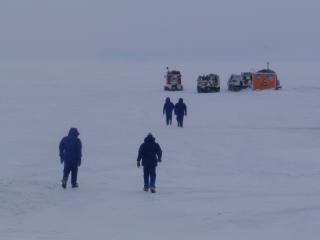 When we arrived at Camp Evans, a large group of Kiwis in blue suits were roaming around.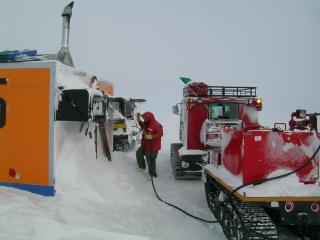 Attached to the back of the pisten bully was a fuel sled. You do not want to let fuel get on your skin out here, it will evaporated quickly taking heat from your skin freezing it instantly.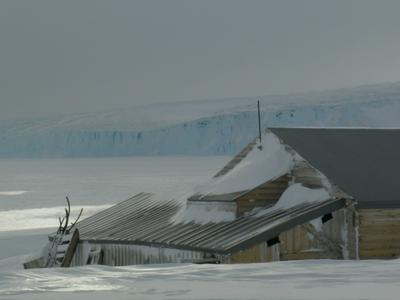 Scott Hut and Barne Glacier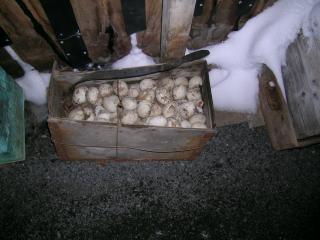 Penguin eggs greet you at the door.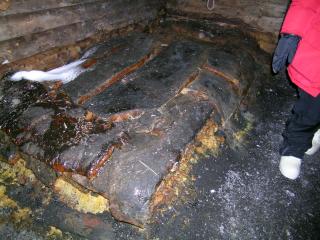 Piles of seal blubber.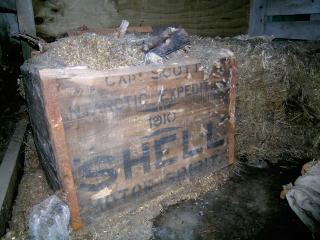 Hay for the ponies.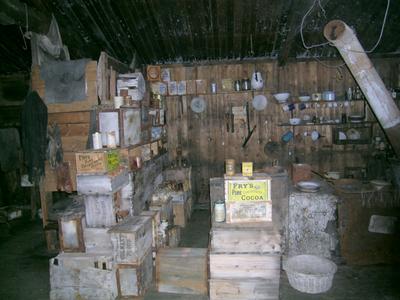 The kitchen with food containers intact.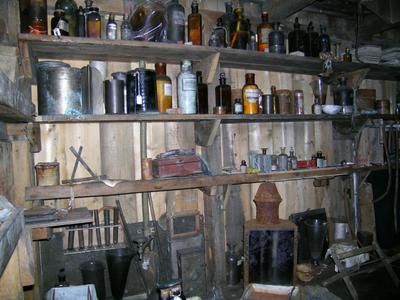 Some of the best photos of Antarctica where made right here in this crude and well stocked photolab. When I complain about how my fingers freeze taking pictures I think about how tough it must have been back then.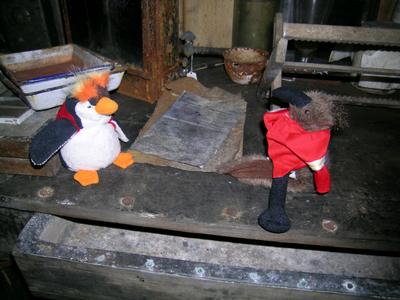 The physics penguin discovers a mad scientist Road-Runner (from California ofcourse) in the photolab.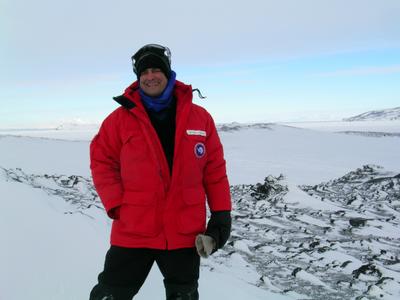 Behind me in the distance is McMurdo and Ross Island.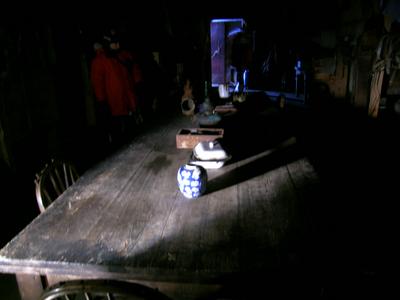 This is the long table that you see in early pictures of Antarctic exploration. Many New Year dinners where celebrated here. There is even real china.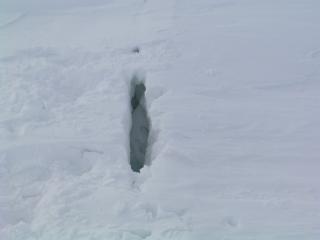 Watch out for tidal cracks.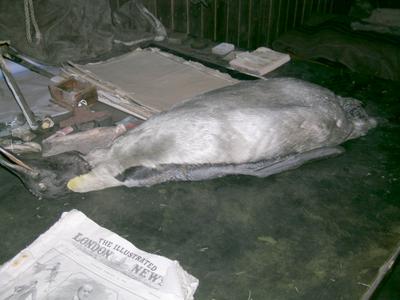 A dead penquin rests near a newspaper, ready for dissection in the year 1916.
---
Contact the TEA in the field at .
If you cannot connect through your browser, copy the TEA's e-mail address in the "To:" line of your favorite e-mail package.