29 October, 2003
Farewell
I am scheduled for tomorrow's flight. Today we were cancelled because of weather, they decided against flying a plane in from Christchurch. So I am grateful to have one day to write again and hike up Ob Hill. I say goodbye to those who had a chance to read my journal.
As a teacher I want students to know that Antarctica is waiting to be explored. I never thought I would ever get a chance to be here. Anyone can have the Antarctic experience. Whether you are a scientist or a tractor driver, all professions are equally worthy and certainly needy in this remote place. I hope that if it is dream to come here that you will do just that.
As a student who learned about Ozone for the first time in detail I want to say thanks to a bunch of people. To Guy Guthridge of the NSF who has the difficult job of making the perfect match of teacher and researcher, yet found the perfect match. To Stephanie Shipp and Arlyn Bruccoli who facilitated the TEA experience. To April Metz who patiently watched over my journal. To Dr. Terry Deshler who taught me all about ozone and the importance of genuine research. To Dr. Jennifer Mercer who kindly worked with me and helped me find ways to get out of town. To Bill Hennings and Diane Dennis who helped organize Antarctica night. To all the staff at my high school and elementary schools who supported me. To all the students who followed my journal and wrote to me, your questions were wonderful. And to my family who endured my absence.
Those who hear not the music, think the dancers mad.
Listen...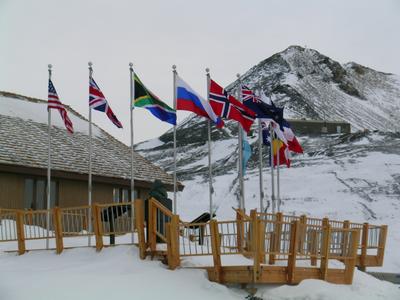 The flags in front of the NSF building. America should be proud of what it has done here for the world scientific community.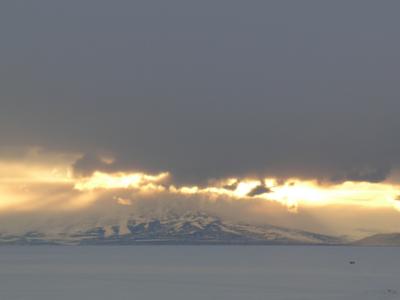 My last Antarctic "sunset".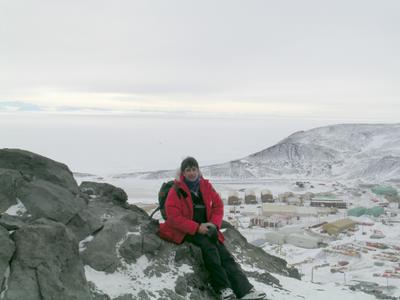 Goodbye from on top of Observation Hill. Please continue to browse other TEA journals and learn more about Antarctic, and start planning how you will get down here to be a part of this beautiful continent.
---
Contact the TEA in the field at .
If you cannot connect through your browser, copy the TEA's e-mail address in the "To:" line of your favorite e-mail package.