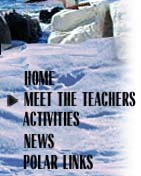 1 November, 1996
Lets see...where to start...the plane ride from New Zealand was out of this world...something you might see in a movie. We took a C-141 Starlifter which has the nickname, 'The Tube of Pain'. It is a military plane so the seats are just benches made of canvas with the backs made of cargo netting. There were 90+ people crammed in the plane with all our Extreme Cold Weather (ECW) gear on--it was very warm! I had on long underwear, a polarfleece sleeveless jumpsuit, heavy windpant bibs, a polarfleece jacket, wool socks, bunny boots, and a huge red parka! ANd then in our carry on bag we had to have several types of gloves, hats, extra socks, another pair of long underwear and more! During the flight I was lucky enough to get to go sit with the pilots up on the flight deck and actually see Antarctica from 6 miles up in the air. They even give you a headset so you can chat with them and the rest of the crew. It was a spectacular view, you could really see the glaciers well.
Then the next thing I knew we had landed on the ice runway and were herded on to a big bus on tracks called "Ivan the Terra Bus"! Next we had an orientation and got our room assignments. McMurdo Station where I will be staying until our trip on the Nathaniel B. Palmer, is actually bigger than I thought it would be. There are about 13 dorms and over 900 people staying here right now.
I'll write about more experiences later.
Jessica
---
Contact the TEA in the field at .
If you cannot connect through your browser, copy the TEA's e-mail address in the "To:" line of your favorite e-mail package.