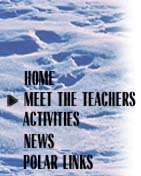 17 March, 2004
Wednesday
St. Patrick's Day was dawning as I prepared to return to Barrow, Alaska. Trees were beginning to show the first pale green signs of spring. Sunlight peeked through cool, swirling mist as I loaded the car.
After saying good-bye to family and spring, I began my journey to the crystalline springtime of the Arctic Circle. I arrived in Anchorage in time to have dinner with Bob Bulger, IT director at BASC.
Tomorrow's flight leaves at 6:30 a.m., so after a quick tour of Anchorage I called it a night.
---
Contact the TEA in the field at .
If you cannot connect through your browser, copy the TEA's e-mail address in the "To:" line of your favorite e-mail package.