17 December, 2001
The majority of today was spent in the SPASE Shack working the the instrumentation and monitoring the freezing process. As the water continues to expand due to the freezing process, we have to continually empty the overflow bucket. So far, we have emptied six buckets each having a volume of 1800 cubic inches. Since our tank is far from being completely frozen, we anticipate a great deal of additional water flowing out from the tank.
The ice that is forming at the top of the tank is riddled with air bubbles, but it appears to be freezing more clearly at the deeper levels. What is important now is that we monitor the tank's core temperature carefully. To accomplish this task, we have split ourselves into shifts. I got the graveyard shift! Working in the "evening" is great because it is much quieter than during regular hours. It affords me the rare opportunity to enjoy the stark landscape of the Antarctic Plateau all to myself....especially during the current "heatwave" we are experiencing! The public address system just announced all flights for tomorrow are cancelled. Hmmm...
Biological Data
Saturated Oxygen: 92 %
Pulse Rate: 102
Weather Data
Temperature: -17.4 F
Wind Chill: -19.5 F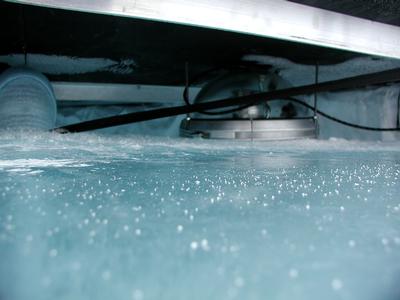 The optical modules frozen inside the tank.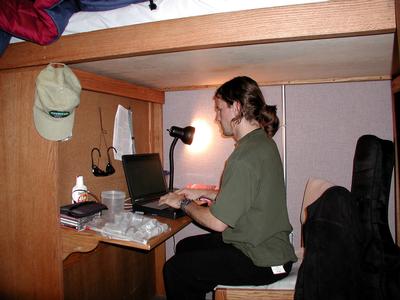 Jason Petula in his dorm room/office/living room.
---
Contact the TEA in the field at .
If you cannot connect through your browser, copy the TEA's e-mail address in the "To:" line of your favorite e-mail package.