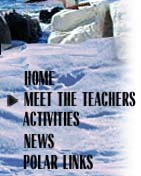 24 January, 1997

>More questions.  Even though I am answering these on the Jan. 24 calendar
>date, some  are as recent as Jan. 25.    Events for the 24th will be found
>as part of the Jan. 25 journal.
>
>QUESTIONS AND COMMENTS:
>
> Name:          Linda Allen
>
>HI LINDA, HI TO ALL MY CLASSES AT DOVER HIGH!
>
>Comments:
>Hi!  I just read all your journal entries.  It sounds
>pretty cool down there.
>
>SOMETIMES IT IS PRETTY COOL IN A LOT OF DIFFERENT WAYS
>
>  Hope your eye gets better
>soon.
>
>THANKS.  IT HEALED WITHIN A FEW DAYS OF STARTING TREATMENT WITH
>ANTIBIOTICS.  IT TOOK A LITTLE TIME BEFORE I COULD SEE REAL CLEARLY.
>
>  Speaking for the whole 1st period class, "We
>miss you! Hope you're having fun!"
>
>THANKS, I AM.  AND DON'T FORGET, I WANT TO VISIT WITH YOU AS SOON AS I CAN.
>
>P.S. How long are you going to be in the Dry Valleys?
>
>YOU PROBABLY ALREADY KNOW THAT I AM BACK FROM THE VALLEYS.  THE REST OF THE
>RESEARCH TEAM WENT HOME TODAY.  I WANTED TO STAY UNTIL WED. (THAT'S YOUR
>TUES.).  I'M GOING TO HELICOPTER OUT TO THE EDGE OF THE ICE IN JUST A
>LITTLE WHILE.  I SHOULD HAVE THAT READY FOR THE JAN. 25 ENTRY.  THANKS FOR
>WRITING.
>
>
>>From Barb Philips, a devastatingly beautiful woman, who happens to live in
>the same house as me:
>
>>hope you are able to write in detail some specifics about the camp life
>>like  food prep
>
>AS YOU WILL SEE IN THE LETTER BELOW WE ARE DISGRACEFULLY NEGLIGENT ABOUT
>FOOD PREPARATION
>
>, toilet procedures and waste disposal,
>
>ONLY MY WIFE WOULD ASK THIS QUESTION.  EVERYONE ELSE IS CURIOUS BUT WON'T
>ASK (EXCEPT FOR MR. BARLOW AT DOVER HIGH)
>
>WE HAD WHAT WE CALLED THE POOP TENT.  INSIDE THE TENT WAS A LARGE
>HEAVY-DUTY GREEN CAN WITH A STYROFOAM SEAT ON IT.  THE SEAT, NOT
>SURPRISINGLY, HAD A HOLE IN THE CENTER.  NEXT TO THE GREEN CAN WAS A LARGE
>WHITE CONTAINER.  WHEN THE GREEN CAN FILLS WITH SOLID WASTE AND THE
>INEVITABLE LIQUID WASTE, THE FIRST PERSON TO BECOME THE MOST DISGUSTED BY
>ITS APPEARANCE WOULD CLEAN IT OUT (SOME OF OUR GROUP SEEMED TO HAVE A VERY
>HIGH TOLERANCE AND WOULD EVEN DEVISE TOOLS FOR FORCING THE CONTENTS LOWER
>INTO THE CAN, WITHOUT ACTUALLY REMOVING THE WASTE).  CLEANING OUT WAS NOT
>BAD.  YOU SIMPLY REMOVED THE LIGHT WEIGHT, BABY BLUE TOILET SEAT, CLOSED
>THE DOUBLE PLASTIC  BAG TOPS WITH TAPE, RAISED THE BURLAP BAG TOP AROUND IT
>SO THE PLASTIC WON'T BREAK AND THE CONTENTS FALL WHERE THEY ARE NOT WANTED,
> AND PUT EVERYTHING IN THE BIG WHITE CONTAINER.  THEN SCREW ON THE
>CONTAINER TOP TIGHTLY.  THE CONTENTS OF THE WHITE CONTAINER ARE LATER SENT
>BACK TO MCMURDO WHERE THEY ARE INCINERATED, WHITE CONTAINER AND ALL.
>
>LIQUID WASTE IS A DIFFERENT MATTER.  WE HAD A LARGE WHITE JAR OUTSIDE THE
>TENT FOR THAT.  THE LIQUID WASTE CONTAINER HAS A SMALL OPENING IN THE TOP
>AND A FUNNEL IS PROVIDED TO CHANNEL ANY LIQUIDS THAT NEED DEPOSITING.
>UNFORTUNATELY, WE DID NOT GET A FUNNEL AND THE CHANNELING WAS NOT ALWAYS AS
>SUCCESSFUL AS WE WOULD HAVE LIKED.  THE CONTENTS OF THIS CONTAINER ARE ALSO
>RETURNED TO MCMURDO.
>
>THE PURPOSE OF ALL THESE PRECAUTIONS IS TO KEEP HUMAN WASTE OUT OF
>ANTARCTICA AS MUCH AS POSSIBLE.
>
>how do you get water,
>
>EXCEPT FOR THE SINGLE TIME THAT I COLLECTED ICE AND BROUGHT IT BACK TO
>CAMP, WE HAVE HAD ENOUGH HELICOPTER SUPPORT TO BRING IT IN.  TURNING THE
>ICE TO WATER IS VERY TIME CONSUMING AND WASTES A LOT OF FUEL.  IT ALSO HAS
>A LOT OF DUST IN IT.  WHEN USING MELTED ICE IN OUR WATER BOTTLES THERE WAS
>ALWAYS A LITTLE SURPRISE AT THE END OF THE LAST GULP.  MOST OF US WOULD
>SPIT OUT THE LITTLE SURPRISE.
>
>Also tell about what each person does on the rock expeditions and other tasks.
>
>DR. BRUCE MARSH IS THE PRIMARY INVESTIGATOR FOR OUR RESEARCH AND HE SETS
>THE PRIORITIES AS FAR AS WHERE WE ARE GOING AND WHAT WE ARE DOING.
>
>JON PHILIPP WAS HERE LAST YEAR WITH BRUCE AND HAS A GOOD KNOWLEDGE OF THE
>RESEARCH AND THE TERRAIN.
>
>THIS IS MIKE ZIEG'S FIRST TRIP HERE BUT HE HAS DONE GEOLOGIC FIELD WORK
>BEFORE.  MIKE'S SPECIALTY IS SPOTTING DETAILS IN THE ROCK.  USUALLY IF WE
>ARE LOOKING FOR A CONTACT BETWEEN TWO ROCKS OR SOME EVIDENCE FOR THE
>PRESENCE OF A TYPE OF ROCK, MIKE WILL SPOT IT FIRST.
>
>THE MOST IMPORTANT THING FOR ZACH AND I TO DO WAS TO LISTEN AND TO OBSERVE.
> FROM THE BEGINNING I STAYED CLOSE TO BRUCE TO LEARN MORE ABOUT WHAT HE WAS
>LOOKING FOR, HOW HE WAS LOOKING FOR IT, AND WHAT IT LOOKED LIKE AFTER HE
>FOUND IT.  EVEN AFTER SEVERAL REPETITIONS OF THE SAME INFORMATION I
>CONTINUED TO INQUIRE ABOUT WHAT HE SAW.  IN THIS WAY I WAS EVENTUALLY ABLE
>TO USE THE SAME TECHNIQUES AS BRUCE, JON, AND MIKE WERE USING.
>
>SOMETIMES WE JUST LOOKED A SITE OVER.  WE LOOKED FOR ANYTHING UNEXPECTED
>AND SPECULATED ON WHY THE UNEXPECTED WAS THERE.  OTHER TIMES WE WOULD
>SIMPLY COLLECT THE BEST SAMPLES WE COULD AT 100 FOOT INTERVALS.  HOWEVER,
>THESE SAMPLES ARE NOT JUST ROCKS LAYING ON THE GROUND.  THE SAMPLES ARE
>TAKEN FROM IN-PLACE OUTCROPS.  THIS IS EXTREMELY IMPORTANT.  WE MUST KNOW
>WHERE THE ROCK WAS IN RELATION TO THE OTHER ROCKS IN THE SILL.  SOMETIMES,
>FINDING SUCH ROCKS WAS VERY DIFFICULT BECAUSE THE OUTCROPS WERE COVERED BY
>DEBRIS.
>WHEN A GOOD SAMPLE IS FOUND IT MUST BE HAMMERED OUT OF THE SURROUNDING ROCK
>AND CHIPPED AWAY UNTIL IT IS ABOUT THE SIZE OF A SOFTBALL.   MOST OF US
>TOOK TURNS IN CARRYING THESE HEAVY ROCKS.  SOMETIMES SOMEONE MIGHT EVEN
>INSIST THAT THEY BE GIVEN A ROCK TO SPREAD AROUND THE WEIGHT EQUALLY.
>
>Mary Pufnock
>Retired School Nurse
>
>Dr. Philips,
>What are the health concerns that you have while in the Antarctic...
>
>THE MOST IMPORTANT THING IS THAT WE ARRIVE HEALTHY.  I HAD THE RECOMMENDED
>FLU SHOT IN NOVEMBER TO ELIMINATE THAT POSSIBILITY.  I EVEN CELEBRATED
>CHRISTMAS WITH MY FAMILY A WEEK EARLY JUST TO AVOID CONTACT WITH ANYTHING
>THEY MIGHT BE CARRYING JUST BEFORE I LEFT.  ONCE WE WERE HERE THE BIGGEST
>THREAT WAS A COLD.  A LOT OF COLDS CIRCULATE AROUND MCMURDO.  ANOTHER
>PROBLEM IS PINK EYE.  I GOT THAT SHORTLY AFTER I ARRIVED.
>
>COLD IS NOT MUCH OF A PROBLEM AT MCMURDO. IT'S IN THE FIELD WHEN IT BECOMES
>MOST DANGEROUS.  EVEN THOUGH IT IS OFTEN VERY COLD WHEN WE WORK, WE
>OVERHEAT AND SWEAT A GREAT DEAL.  WHEN WE STOP WORKING WE COOL DOWN
>RAPIDLY.  THIS COULD CAUSE HYPOTHERMIA---A LIFE THREATENING CONDITION.
>HOWEVER, THE CLOTHING WE WORE WAS GOOD FOR WICKING AWAY SWEAT (YOU SHOULD
>NEVER WEAR COTTON NEXT TO YOUR SKIN) AND WE ALWAYS CARRIED EXTRA EXTREME
>COLD WEATHER GEAR.  THIS GEAR IS SO GOOD THAT WE COULD SLEEP OUT IF WE HAD
>TO.
>
>ANOTHER CONDITION TO WORRY ABOUT IN THE CAMPS IS DEHYDRATION.  ANTARCTICA
>HAS ONE OF THE DRIEST CLIMATES ON EARTH.  THIS MEANS YOU SHOULD DRINK A LOT
>OF WATER.  EACH INDIVIDUAL IS DIFFERENT AND EACH REQUIRES DIFFERENT
>AMOUNTS.  UNLESS YOU HAVE A LOT OF EXPERIENCE IN WORKING IN DRY CLIMATES
>YOU SHOULD CONSUME MORE WATER THAN YOU THINK YOU NEED.
>
>AS FOR DISEASES IN THE FIELD WE DID NOT REALLY WORRY MUCH.  ALTHOUGH JON
>BROUGHT A COLD FROM MCMURDO, IT DID NOT SPREAD.
>
>what if any health measures did you have prior to your departure?
>
>WOW!  BRUCE AND I WERE EXAMINED FROM ONE END TO THE OTHER BECAUSE WE WERE
>BOTH 49.  I CANNOT IMAGINE A MORE THOROUGH EXAMINATION---HEART, LUNGS,
>PROSTATE, ARTERIES, TEETH, MUSCLE, EARS, EYES,  MENTAL STATE, YOU NAME IT.
>ALL WISDOM TEETH HAD TO BE PULLED, CAVITIES FILLED, AND SUSPECT TEETH ROOT
>CANALLED.  AN ENTIRE SET OF X-RAYS OF ALL THE TEETH ALSO HAD TO BE MADE (I
>LEARNED LATER THAT THE PURPOSE OF THESE X-RAYS WAS TO IDENTIFY YOUR REMAINS
>IF YOU DIED IN A CRASH).  MEDICAL HELP HERE IS VERY LIMITED AND IT REQUIRES
>A TREMENDOUS AMOUNT OF TIME AND MONEY TO MEDIVAC SOMEONE.  AND THE DISTANCE
>IS SO GREAT THAT THE PATIENT MIGHT DIE LONG BEFORE REACHING A HOSPITAL IN
>NEW ZEALAND OR CHILE.
>
>Are there any special nourishment supplements that you need to take
>while you are there?
>
>NONE THAT ARE REQUIRED.  AT MCMURDO THE FOOD IS VERY FATTY AND HIGH IN
>CALORIES.  IN THIS CLIMATE THAT IS NOT SUCH A BAD DIET BUT IT COULD BE
>DANGEROUS TO A PERSON WITH A HEART RISK.
>
>IN THE FIELD IT IS UP TO EACH TEAM TO SELECT THE KIND OF FOOD THEY WOULD
>LIKE.  IT IS IMPORTANT THAT WE CONSUME A LOT OF CALORIES TO KEEP  WARM.
>EVERYONE TAKES LOTS OF CHOCOLATE AND GORP (TRAIL MIX) INTO THE FIELD.  BUT
>MEALS IN THE DIFFERENT FIELD CAMPS RANGE FROM GOURMET COOKING TO HAMBURGER
>HELPER---WITHOUT THE HAMBURGER.  OUR GROUP EXPANDED THIS RANGE TO A LEVEL
>BELOW THE HAMBURGER HELPER.  I WOULD USUALLY HAVE A CHOCOLATE CANDY BAR
>WITH COFFEE BEFORE BREAKFAST, OATMEAL LATER, AND SOME SORT OF BOXED JUICE.
> THEN CHOCOLATE FOR DESERT. ALL OF US HAD BAGELS WITH LUNCH MEAT IN THE
>FIELD, FOLLOWED BY GORP, CHOCOLATE, OR GRANOLA BARS FOR DESERT.  I USUALLY
>HAD CHOCOLATE.
>
>DINNER WAS ANOTHER MATTER.  TRUE STORY---ON THE DAY WE MADE WHAT IS
>POSSIBLY THE HIGHEST ASCENT OF CATHEDRAL ROCK WE ARRIVED BACK AT CAMP VERY
>EXHAUSTED.  JON, MIKE Z., AND I GRABBED A BEER AND BRUCE HAD A SCOTCH.
>MIKE PARFIT, WHO IS WRITING AN ARTICLE FOR NATIONAL GEOGRAPHIC (AND ALSO
>THE AUTHOR OF "SOUTHERN LIGHT") WAS WITH US THAT DAY AND HAD A BEER ALSO.
>WE ALL SAT AROUND, LAUGHING AND JOKING AND PASSING AROUND BAGS OF GORP,
>BAGELS, AND CHOCOLATE.  THIS WENT ON FOR ABOUT AN HOUR WHEN IS SUDDENLY
>DAWNED ON MIKE PARFIT, "THESE GUYS AREN'T GOING TO EAT ANY DINNER!"  SO HE
>SAID, "SO, WHEN'S DINNER?"  I SAID, "I'M OK".  MIKE Z. JUST SHRUGGED HIS
>SHOULDERS AND SMILED.  WHILE JON, WHO USUALLY STRAPS ON THE FEED BAG AS
>SOON AS HE ENTERS CAMP, SAYS, "THIS PEANUT BUTTER ON BAGELS IS PRETTY
>GOOD."  BRUCE, WHO IS VERY DEMOCRATIC JUST GOES ALONG WITH THE REST OF US.
>WITH THAT, MIKE PARFIT GOT UP RUMMAGED THROUGH THE FOOD BOXES AND SOON WE
>WERE EATING A MEAL OF NOODLES, CORN, AND CANNED TURKEY.  I HAD CHOCOLATE
>FOR DESERT AND A BAR OF CHOCOLATE BEFORE GOING TO BED.
>
>I DON'T THINK THIS IS THE DIET ANY DOCTOR WOULD RECOMMEND, BUT FOR OUR WORK
>IT WAS FINE.  THE HIGH CALORIE INTAKE WAS THE MOST IMPORTANT ASPECT OF OUR
>DIET.
>
>OF COURSE FOR LONGER EXPEDITIONS A MORE CAREFULLY PREPARED DIET WOULD BE
>REQUIRED.
>
>
>
>
>If you have anymore questions I will be happy to anwer them as long as they
>are received within the next few days.  After that I will not be in
>communication with the U.S. for a month.
>
>If you sent a question and it was not answered then is was lost in
>transmission.  Please submit it again.
>
>Also, another set of questions was answered on January 21.



Return to Bill Philips' Page
---
Contact the TEA in the field at .
If you cannot connect through your browser, copy the TEA's e-mail address in the "To:" line of your favorite e-mail package.