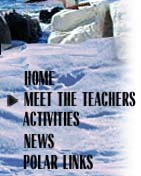 26 January, 1997


>1/26/97
>Today was the first time in a long time that I got 8 hours of sleep.  I
>went to bed at 2:00AM (the sun was shining in a beautiful bright blue sky)
>and got up at 10:00AM.  One of the things I love most here is the
>continuous sunshine; no matter how late I stay up, the cheerful sun is
>always there.
>
>I met Barbara Schulz again today.  She just got back from a different area
>of the Dry Valleys (Lake Bonny).  She is a biology teacher.  I really
>recommend her journals because she has a very different perspective of
>Antarctica.   While I was studying rocks, Barb was studying life.
>
>QUESTIONS:  (if you mailed a question and do not see the answer here,
>please try the January 21 and 24 entries.
>
>
>Andy Verdon
>Organization: Dutchess County BOCES
>
>  Specifically, where are
>you?
>
>GREAT QUESTION.  I'M AT MCMURDO BASE ON ROSS ISLAND, ABOUT 166 DEGREES AND
>40' EAST AND ABOUT 77 DEGREES AND 50' SOUTH.  ROSS ISLAND IS ALMOST
>STRAIGHT DOWN FROM NEW ZEALAND AND JUST OFF THE COAST OF THE CONTINENT.  IT
>IS CONNECTED TO ANTARCTICA BY THE GIANT ROSS ICE SHELF.
>MORE SPECIFICALLY, I AM IN ROOM 118 OF CRARY LAB.  THIS IS WHERE I WORK
>SINCE RETURNING FROM THE DRY VALLEYS.  CRARY LAB HAS ALL THE FACILITIES
>THAT RESEARCHERS NEED FOR CARRYING OUT ON-SITE ANALYSIS.  THE STAFF HERE IS
>EXTREMELY HELPFUL IN FINDING EQUIPMENT AND MAKING REPAIRS.
>
>What are your insights into incorporating the Internet into the
>classroom?
>
>FROM MY PERSPECTIVE IN ANTARCTICA THE POTENTIAL IS FANTASTIC.  THE QUESTION
>IS, "HOW DO WE FULFILL THE POTENTIAL".  AND THAT IS SOMETHING I HAVE
>THOUGHT ABOUT A GREAT DEAL SINCE I ARRIVED HERE.  UNFORTUNATELY, I REALLY
>NEED MORE TIME TO THINK ABOUT THIS TOPIC BEFORE I CAN GIVE A MORE COMPLETE
>ANSWER.
>
>I'd also be interested in knowing what science you've
>learned, and how kids might get more turned onto learning through the
>integration of technology and science.
>
>OF COURSE THE JOURNALS GIVE SOME FEEL FOR THE SCIENCE I AM LEARNING HERE.
>I THINK THE MOST IMPORTANT THING FOR THE STUDENTS IS THAT THEY ARE A PART
>OF THIS ADVENTURE.  MANY CLASSES ARE FOLLOWING THE JOURNALS FROM DAY TO
>DAY.  MANY OF THESE STUDENTS ARE BEGINNING TO SEE SCIENCE AS AN ADVENTURE
>AND NOT JUST ANOTHER SUBJECT TO BE LEARNED.  WITHOUT THE INTERNET, THE
>IMMEDIACY OF THIS ADVENTURE WOULD BE LOST, THEY WOULD NOT FEEL THAT THEY
>WERE A PART OF IT IF THEY COULD NOT COMMUNICATE WITH ME WHILE I AM HERE.
>
>
>The following two letters mention the weather.  I'll take time to talk
>about it in general.
>
>
>Date: Sat, 25 Jan 1997 12:54:24 -0500
>From: Martin Burns` Organization: Capital School Board President
>Bill,
>.Julie and I were in Chicago one
>week ago and felt -5 degrees..luckily the windchill was not what it had
>been the day before we arrived...-50 to -70...the gods turned off the
>winds for some reason...an unheard of event in CHICAGO!  Couldn't help
>thinking of being in that kind of weather constantly.
>
>Dear Dr. Bill Philips,
>        We hope you are having an enjoyable time.  How cold is it?  The
>other day at Hartly it was -18 below zero with the wind chill factor.
>We hope you will come to our school when you return.  Please E-Mail us
>back.  We just got the internet and you would be the first to e-mail
>back to Mr. Smith's class.  The fourth Graders at Hartly
>
>AT THIS TIME OF THE YEAR AND IN THIS PLACE (MCMURDO) THE WEATHER IS
>DELIGHTFUL---USUALLY.  OFTEN CHICAGO AND HARTLEY, DELAWARE WILL HAVE COLDER
>WEATHER THAN THE COAST OF ANTARCTICA.  WHILE IN THE DRY VALLEYS THE COLDEST
>TEMPERATURE WE EXPERIENCED WAS ABOUT -8 C.  THE HIGHEST WAS JUST ABOVE 0 C.
> THESE "WARM" TEMPERATURES IN THE DRY VALLEYS IS WHY THEY CALL IT THE
>"BANANA BELT".  ALSO THE WIND BLOWS ALMOST CONSTANTLY THERE, USUALLY FROM
>15 TO 25 MILES/HR.
>
>THE WIND OF COURSE CREATES A WIND CHILL.  HOWEVER, THE WIND CHILL FACTOR
>THAT WEATHERMEN LOVE TO SCARE PEOPLE WITH IS NEGLIGIBLE IF YOU ARE DRESSED
>IN ANYTHING THAT CAN BLOCK THE WIND OR ARE STANDING OUT OF THE WIND.  IN
>OTHER WORDS, IF YOUR SKIN IS NOT EXPOSED AND YOUR CLOTHING KEEPS OUT THE
>WIND, WIND CHILL IS NOT IMPORTANT.  THE WIND CHILL TEMPERATURE SHOULD BE
>APPLIED TO UNPROTECTED SKIN---SO NAKED PEOPLE STANDING AROUND THE STREETS
>OF CHICAGO WOULD ACTUALLY EXPERIENCE THOSE WIND CHILLS THAT ARE REPORTED.
>HOWEVER, THOSE OF US THAT ELECT TO WEAR JACKETS, PANTS, ETC. ARE LESS
>EFFECTED BY IT.
>
>HAVING SAID THAT, I MUST ADMIT, THAT WHEN I AM LIGHTLY DRESSED AND A WIND
>COMES WHIPPING OFF OF THE ICE SHEETS, I FEEL A COLD THAT BITES LIKE TEETH
>OF ICE.  FORTUNATELY WE ARE PROVIDED WITH THE VERY BEST GEAR TO PROTECT US.
> IT'S JUST THAT IDIOT'S LIKE ME SOMETIMES RUN FROM ONE BUILDING TO ANOTHER
>WITHOUT BOTHERING TO PUT IT ON.
>
>AS FOR SLEEPING IN A TENT IN THIS KIND OF WEATHER, AGAIN, IT DEPENDS ON
>WHERE YOU ARE AND THE TIME OF THE YEAR.  SINCE BULL PASS, WHERE WE STAYED,
>WAS USUALLY SUNNY OUR SCOTT TENT WAS OFTEN IN THE 40'S F.  HOWEVER, THERE
>WERE DAYS WHEN THE WATER FROZE IN OUT TENTS.  NEVERTHELESS OUR SLEEPING
>BAGS WERE WONDERFUL AND KEPT US VERY WARM.
>
>THERE IS ALSO THE ADJUSTMENT TO THE COLD.  I DO NOT KNOW WHETHER THE
>ADJUSTMENT IS PHYSICAL OR MENTAL.  SOME PEOPLE HERE NEVER GET USE TO IT,
>BUT MOST OF US DON'T EVEN NOTICE IT.  ONE PERSON WANTED TO KNOW WHAT IT
>FELT LIKE GETTING UP IN THE MIDDLE OF THE NIGHT OR EARLY IN THE MORNING.
>IT FELT PRETTY MUCH LIKE GETTING UP AT HOME, THE COLD WAS NOT A FACTOR.
>
>FINALLY, AS I HAVE SAID, I'VE WORKED IN SOME OF THE WARMEST PLACES IN
>ANTARCTICA.  THOSE RESEARCHERS AT VOSTOK AND AMUNDSEN-SCOTT BASE CAN TELL
>YOU QUITE A DIFFERENT TALE, AS CAN THE PEOPLE WHO LIVE HERE IN THE WINTER.
>VOSTOK RECORDED THE LOWEST TEMPERATURE IN THE WORLD DURING THE WINTER, I
>BELIEVE IT WAS -89 DEGREES C (AT THAT TEMPERATURE TIN CRUMBLES INTO DUST
>AND A DROPPED STEEL BAR MIGHT BREAK).
>
>Dear Mr. Phillips,
>     We are students in Mrs. Handler's second grade class at Arnold
>Elementary School in Dover, Delaware.  We are interested in your
>expedition in Antarctica because we are studying continents.  We are
>also interested in penguins.  Can you take a picture of a penguin  We have
>started a
>notebook of information from your trip.
>     Thank you for sending the letters to help us learn more about
>Antarctica.  Your Friends, Mrs. Handler's Class
>
>THIS IS THE SECOND LETTER I HAVE RECEIVED ABOUT PENGUINS, SO I GUESS IT'S
>TIME TO TELL ABOUT BEING AMONG THE ADELE PENGUINS AT CAPE ROYDS.  A FEW
>DAYS AGO WE WENT TO CAPE ROYDS AND MET STEPANI AND SOPHIE WHO HAVE BEEN
>WORKING AT THE ROOKERY THERE FOR MOST OF THE SUMMER.  LATER WE WALKED OVER
>TO AREA NEAR THE ROOKERY (SIGNS ARE POSTED TO KEEP PEOPLE OUT OF THE
>ROOKERY).  I SAT ON A ROCKY LEDGE CLOSE TO WHERE THE PENGUINS LIKED TO
>ENTER THE WATER.  FOR ABOUT 45 MINUTES I WATCHED THERE COMINGS AND GOINGS.
>I CAN TELL YOU THAT THEY ARE EVEN MORE DELIGHTFUL IN PERSON THAN THEY ARE
>IN THE NATURE FILMS.  MY FAVORITE WAS RICH (NOT HIS REAL NAME).  RICH STOOD
>AMIDST THE HUSTLE AND BUSTLE LOOKING COMPLETELY BORED AND HALF ASLEEP.  HE
>NEVER MOVE BUT OCCASIONALLY GAVE A LOOK THAT SAID, "STUPID PENGUINS".  THE
>FIRST TIME I SAW PAUL (NOT HIS REAL NAME) I THOUGHT HE WAS DEAD.   HE JUST
>LAID THERE SLEEPING AMONG ALL THE TURMOIL ABOUT HIM.  CHERYL, JEN AND ANN
>(ALSO NOT THERE REAL NAMES) RAN UP AND DOWN THE ROCK FROM WHICH THE
>PENGUINS JUMPED INTO THE WATER.  THEY HAD NO INTENTION OF GOING IN
>THEMSELVES, BUT SEEM TO LOVE WATCHING THE OTHERS, ANN EVEN KNOCKED ONE OR
>TWO IN SOMETIMES.  BOB, GENE, LARRY AND ANOTHER BOB (THEIR REAL NAMES) ALL
>SHOT UP ONTO THE ICE VERY GRACEFULLY AND THEN REALIZED THEY WERE NOT ON
>LAND BUT ON AN ICE FLOW.  THEY RAN UP AND DOWN THE FLOW, WONDERING HOW TO
>GET ONTO THE LAND WHICH WAS ABOUT SIX FEET AWAY.  NONE OF THEM SEEMED TO
>REALIZE THAT THEY COULD SWIM OVER.  JAN AND ELAINE CAME OVER TO STARE.
>THEY WALKED TO WITHIN FIVE FEET OF ME AND GAVE A LOOK WHICH SEEMED TO SAY,
>"HEY, STUPID, YOUR NOT A PENGUIN."  AS I WALKED BACK TO SHACKLETON' S HUT I
>WAS FOLLOWED BY APRIL.  APRIL SEEMED INTERESTED IN THE FACT THAT THE DOOR
>TO THE HUT WAS OPENED.  PENGUINS OFTEN SEEM VERY CURIOUS ABOUT SOMETHING
>DIFFERENT, SHE SEEMED TO THINK THE OPEN DOOR MIGHT OFFER A NEW OPPORTUNITY
>FOR EXPLORATION.
>
>AND THAT WAS MY WONDERFUL DAY WITH THE ADELE PENGUINS.
>
>
>
>Dear Dr. Bill,
>
>You are a dork.  However, those two graduate students with you are very cool.
>
>Sincerely Gabe
>
>THIS WAS A RATHER STRANGE NOTE.  THE ROUTING OF THE MESSAGE SEEMED TO BE
>FROM ANTARCTICA TO MY HOUSE AND BACK AGAIN.  WHAT WAS PARTICULARLY STRANGE
>ABOUT IT IS THAT IT REFERS TO ME AS A DORK AND TO MIKE AND JON AS VERY
>COOL.  NOW I KNOW MIKE AND JON VERY WELL.  SEVERAL WORDS COME TO MIND WHEN
>YOU MEET THEM, BUT NONE OF THE WORDS WOULD BE "COOL".  BOY, I REALLY WISH I
>COULD FIGURE OUT WHO IN ANTARCTICA WOULD BE CALLING ME A "DORK" AND MIKE
>AND JON "COOL".  I THINK THE MESSAGE WAS SUPPOSED TO READ, "YOU ARE VERY
>COOL.  HOWEVER, THOSE TWO GRADUATE STUDENTS WITH YOU ARE DORKS."  OH WELL,
>I GUESS WE'LL NEVER FIGURE OUT WHO WROTE IT.
>
>
>
>One last thing before closing.  Sir Edmund Hillary, the first man to stand
>at the top of Mount Everest, is giving a lecture at this very moment.  Why
>am I not there?---I really don't like large crowds.  I went over to hear
>him, but the room was absolutely packed.  I'm afraid I did the same thing
>when the Norwegian who skied across Anarctica spoke Friday night.  So, I am
>sorry to say, I have nothing to report about two very remarkable men.  But,
>if they would just step down to my office....



Return to Bill Philips' Page
---
Contact the TEA in the field at .
If you cannot connect through your browser, copy the TEA's e-mail address in the "To:" line of your favorite e-mail package.