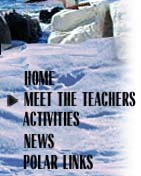 3 January, 1997

January 3, 1997

9:16 PM    Today I experienced my coldest day in Antarctica.  I worked 
for approximately one half  of an hour at the teeth chattering 
temperature of -12 degrees F.  I had no gloves on and only a wind 
breaker to keep me warm.  Fortunately, I was requisitioning frozen foods 
from the supply station and could leave the freezer at any time.  
Outside the temperature was a sunny and pleasant 35 degrees F.  Boy, was 
I glad to leave that freezer.

I think a lot of people will be disillusioned to hear that weather at 
McMurdo is often very pleasant at this time of the year.  Since we 
arrived on December 31 we have not seen a single bad day.  Although the 
temperatures have usually been in the 30's, they have sometimes reached 
the low 40's.  And the sun shines on and on and on.

Bruce Marsh, the primary investigator (PI) in our research in the Dry 
Valleys arrived last night.  Bruce is a geologist at Johns Hopkins 
University.  He will lead and direct us to sites in the Dry Valleys that 
he believes may hold the key to his theories on the formation of igneous 
rock.  This is his fourth season in Antarctica.  Last year he did a 
careful survey of the Dry Valleys by helicopter and determined where to 
do the final investigations for his last season here.  Last years survey 
will save us a lot of time and probably lead us to some of the most 
valuable pieces in the rather complicated geologic puzzle of igneous 
rock formation.

Bruce is very easy to work with.  He demonstrates an interest in a broad 
range of topics.  At a single meal we might discuss books, history, 
movies, and, of course, geology.  More importantly he has a keen sense 
of humor which helps to keep things in perspective and fits in well with 
the other personalities in the group.

We also met with Mike Parfet from the National Geographic Magazine.  
Mike is working on an arcticle about the Dry Valleys and plans to visit 
our site.  In addition to Mike the National Science Foundation hosts 
reporters from the PBS science show, NOVA, other reporters, artists, and 
free-lance writers.  These people allow a variety of perspectives on 
Antarctica to be presented to the public.

The intellectual atmosphere in Antarctica is unlike anything I've ever 
seen.  There is a genuine interest by support staff and scientists in 
everything going on.  There do not seem to be boundaries between the 
various disciplines.  Example:  A petrologist (a geologist who studies 
rocks), a marine biologist, and a physicist sat down at lunch time, all 
meeting by chance.  Each asks the other what they are working on.  A 
number of questions are asked to clarify the research.  Suggestions are 
made from the perspective of the discipline of each of the scientists.  
Eventually, the physicist turns to the petrologist and says, "I want you 
to calculate a wavelength for me."  The physicist then describes an 
unusual visual phenomena in an area where he was doing a s
urvey.  He draws a picture of the area, describes the wavy surface of 
the ice, and then asks for the wavelength of the structure.  The 
petrologist, with all the appearance of an eager student, begins setting 
up an equation.  A! s he works he continually asks 

Over the past few days we have done a lot of preparation for the field 
work and we finished up most of the work today.  Todays work included 
bagging and boxing everything.  Weighing everything And then hauling 
everything to the helicopter port.  The weigh
ts are extremely important because the helicopter load masters must 
distribute the load carefully and not put too much weight on board.  
Although everything was hauled to the port today (Friday) it will not go 
out until Monday.

With most of our work out of the way, Jon, Mike, and I plan to do a long 
hike to a place called Castle Rock tomorrow.  Castle Rock is all that 
remains of an ancient volcano that has almost completely eroded away.  
The region we are in (Ross Island) is a part of a chain of volcanoes 
1000 miles long.  Ross Island is made up of three volcanoes, including 
the still active Mount Erebus.

For those of you who have read Dom Tedeshi's wonderful journal and 
wonder what's become of him, he is still here.  Still working about 14 
hours a day (which is not at all unusual for an Antarctic researcher).  
His work has taken him to many wonderful places around the continent.  I 
certainly envy him for his travels.
One last thing.  I want to make mention of D Bear, the geography bear 
that was sent along with me by a student at Hodgson.  D Bear is doing 
fine but stays in her room most of the time.  She seems most comfortable 
laying down on the desk top where I do most of my writing.  She will be 
going with me to the Dry Valleys later.  I'll try to get a picture of 
her, the Delaware flag, and the Dover High volleyball and football 
emblems and post in on the website.

Return to Bill Philips' Page
---
Contact the TEA in the field at .
If you cannot connect through your browser, copy the TEA's e-mail address in the "To:" line of your favorite e-mail package.