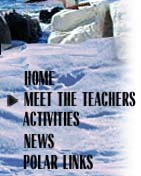 6 January, 1997

12:52 AM  The sky over McMurdo is bluer and brighter than I have ever 
seen it before.  The air is wonderfully cool and crisp.  It breathes life 
into this exhausted body.

I'm making this entry so late at night because I don't think I can make 
another entry for a while.  We have a big problem with our solar 
generator that I did not discover until tonight.  Tomorrow I will try to 
get it replaced before we leave for the Dry Valleys.  If the generator is 
not replaced there will be a long wait between journal entries, so please 
bear with me.  I will also have to keep the entries short, but will give 
more details when I return to McMurdo.  Our schedule today involves 
personal packing, fixing the solar generator, taking a survival course, 
flying by helicopter to the Dry Valleys, and setting up camp.  After 
reading that list I think I better get to bed.


Return to Bill Philips' Page
---
Contact the TEA in the field at .
If you cannot connect through your browser, copy the TEA's e-mail address in the "To:" line of your favorite e-mail package.