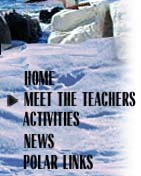 2 October, 2000
Things are starting to get even more firmed-up. Von sent me the flight information for his visit to Billings to present with me at the Montana Educators Convention later this month. Von is going to be on one of those wirlwind type of trips...leaving Moscow late on the 19th and heading back to Moscow late on the 20th. I am hopeful that his presentation will draw a good crowd to make his trip worth the effort. The presentation is scheduled for 1 to 3 PM and with a title like "Take Your Class to Antarctica Without Leaving the Warmth of Your Classroom" it should be a good draw.
---
Contact the TEA in the field at .
If you cannot connect through your browser, copy the TEA's e-mail address in the "To:" line of your favorite e-mail package.