3 December, 2000
McMurdo Station
I am finally having the opportunity to check and catch up on my email. I have spent about an hour so far at the Crary Library using the high speed internet. I have had some problems the last few days with my email...something was quirky with the system in Montana.
How do I express how happy I am to be here? I really can't. I am hopeful that the images for the last couple of days can help. I am sitting here looking out at some of the most beautiful mountains that I have ever seen. I am also surrounded by history. I am only a mile or so from Scott's hut and Mt. Erebus is off in the distance. I also never imagined how large everything seems, or how stark the contrasts between ice and rock are. Most of the rock around the station is very black volcanic, which seems to almost be a void when seen against the blinding white of Ice and snow that surrounds it. I am hopeful to take some black and white images to make use of the contrast.
The flight yesterday was uneventful, which is a good thing, and took seven hours from Christchurch. We got into McMurdo after the meal call, but the cooks got some mini pizzas out for us and cereal and breads too. After diner and a quick walk to the baggage holding shed it was time for a minor walkabout to see the station. I seemed strange to think that at 10:30PM it was still light and would be for then next few months. After a brief attempt at email at Crary Library it was back to the Dorm and to bed at about 11:30.
Today, in addition to the task of email I actually found the laundry facilities, this was a good thing since my three days of clothes that I had easy access to in NZ was starting to take on a life of its own.
Oh one funny thing. I never saw where it said to bring a bath towel... thank god for the Skua pile! It seems that every one donates unneeded items to the Skua. Since Skua will eat about anything and are scavenges that is why the donated items and left items are called Skua.
And lastly, all the Pole Dwellers were given medication to help prevent high altitude illness. It seems that this year has been parcticularly hard on folks. I have taken my first pill and according to the symptoms I am having it must be working. My fingers feel like they are asleep and my lips feel tingly!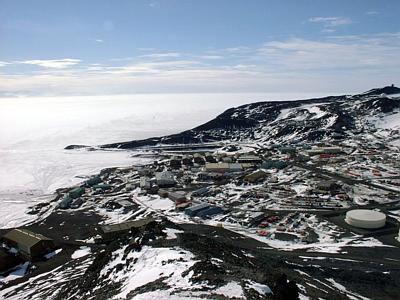 When one has a day in McMurdo and the key to Scott's Hut is unavailable there is always the opportunity to climb Observation Hill to get a beeter view of the station.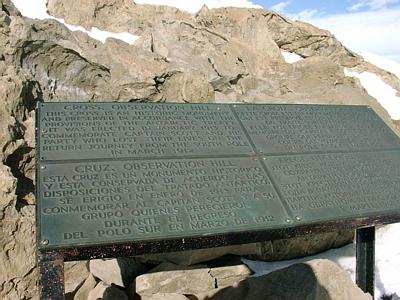 Well if I would learn to use my spell checker it would help!! At the top of Observation Hill is a plaque as a dedication to Scott and the others of his part that perished on the return from the Pole in 1912. There is also a cross, which I had to have my picture taken in front of to prove to my students back in Billings that I am actually here...not just my evil twin skippy!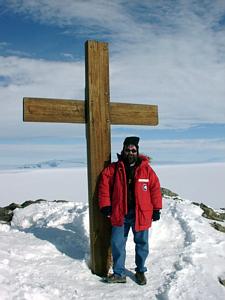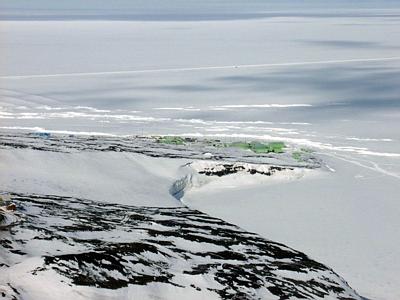 From the top of Observation Hill you can also see Scott Base, this is the Kiwi (NZ) base about 2km from McMurdo. This is a much smaller base than McMurdo at about 200 to 250 compared to the 1000 or so at McMurdo. On my return I will take the shuttle from McMurdo to Scott to visit the store!
---
Contact the TEA in the field at .
If you cannot connect through your browser, copy the TEA's e-mail address in the "To:" line of your favorite e-mail package.