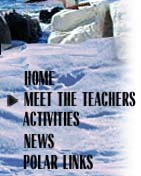 21 December, 2001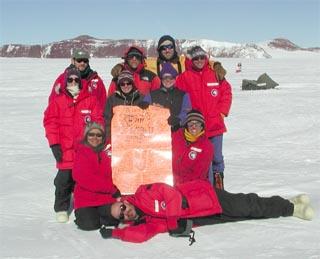 The Team's All Here! The final two members of our ANSMET team arrived by twin otter today, and we finally got to take a group photo. Linda Martel (far left with white neck gator) and Jamie Pierce (far right) complete our ten member team for the 2001-2002 field season. The orange poster is signed by all of the kids at Toyon Elementary School in San Jose, CA. Unfortunately, it was a short gathering because Duck and John were whisked away by the same plane. They will be exploring ice fields near Finger Ridges, about 55 km from our camp at Meteorite Hills for the next week. We miss them already. :( But we're happy to have Linda and Jamie who are currently settling into their tents, which will be their new homes for the next 4 weeks. Tomorrow it will be a normal day for us, meeting at 9 am and continuing our meteorite searches. But we'll also be awaiting news from John and Duck, to hear all about the area around Finger Ridges.....
---
Contact the TEA in the field at .
If you cannot connect through your browser, copy the TEA's e-mail address in the "To:" line of your favorite e-mail package.